Best Facial Moisturizer For Severely Dry Skin
The best facial moisturizer? In my opinion it's ZenMed Organic Moisturizer. Of all the anti wrinkle product reviews and best moisturizer reviews I've done, this one really impressed me.


This moisturizer was recently re-vamped to include hyaluronic acid and Matrixyl...along with organic aloe vera should be natural and non-irritating.
If you have aging, dry or troubled skin this creamy moisturizer is the best. It's very rich, creamy and hydrating.

And, since it does not contain paraben, fragrance, or other additives - it's perfect for sensitive or troubled skin like rosacea.
That is a major problem with many of the moisturizers on the market today -- they're are loaded with chemicals, fillers, and cheap oils. While some may seem to hydrate at first, they often leave your skin feeling tight and flaky a few hours later.

ZenMed's Natural Organic Elixir contains herbs and plant essences so it extremely gentle on dry sensitive skin. Plus it's non-comodogenic (won't clog pores) and is hypoallergenic and contains pure botanical extract so it helps to heal dry cracked skin. Plus, it contains organic ingredients like aloe along with vitamins and herbs.


Finding a moisturizer that hydrates without causing skin problems is hard enough. But did you know that some have been linked to causing cancer? While there has not been a long term, large study on this topic – it is interesting at best.


Researchers from Rutgers University tested a few popular "drug-store" brand moisturizers and found that – when exposed to sunlight – some moisturizers contained chemicals that could actually cause cancer. You can read more about this topic here Face Moisturizers.


I really don't how relevant this information is at this time – the four moisturizers they mentioned are not ones that I'm very familiar with – but then again, I don't use many "drug store" brand skin products. The four they listed in the study were: Dermabase, Dermavan, Eucerin, and Vanicream.


I've heard of Eucerin and have even received samples of their hand cream, but it contained sunscreen too. So as far as I know, nobody's tested the effects of these moisturizers along with sunscreen.


I think for now, it's best to stick with natural organic moisturizers and always apply a sunscreen. Even if you don't think you'll be heading outside, it's a good habit to develop.


Conclusion
I'm impressed with this product! For the quality and research that went into this product, the price is very reasonable. It contains premium organic SPA quality ingredients which is very important.


Many people don't realize that your skin absorbs ingredients found in your skin care products. So you need to use products that have a nutritional value for your skin -- just like you would for the food you put into your body.


Also, they have great customer service as I've contacted them several times for product recommendations, detailed information on their products and just general skin questions.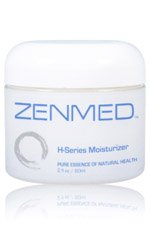 What's Your Best Facial Moisturizer? Tell us about it. Click here to submit your own anti aging product review. Anti Aging Product Review
---
Additional Reading - Best Facial Moisturizer
For other great skin care tips, visit the following pages....
Renew Intensive Skin Therapy - A novel way to restore collagen, smooth scars, pitted skin, and stretch marks.
Facial Exercises - What Can Facial Exercises Do For You? - it can take years off your face, reduce droop cheeks and jowls, eye wrinkles & crows feet. And, it's much cheaper and safer than cosmetic facelift surgery.
Help for Acne - Need help for acne skin problems? There are so many over-the-counter acne treatment products on the market – but which ones really work? 


Return from Best Facial Moisturizer to Anti Wrinkle Cream Revews

Return Home