Creme De La Mer
Creme De La Mer was created by Doctor Max Huber, forty years ago, after a laboratory accident scarred his face.


La Mer cream is now considered a miracle in a jar to millions of women.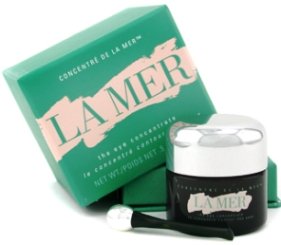 Doctor Huber, a physicist, experimented for years looking for something that would give him relief for the terrible scarring that the accident caused him to search out a cocktail of bio fermented sea kelp that he calls Miracle Broth™.


This is the basis of the La Mer face cream and the rest of the Le Mer line.


The original resulting cream takes up to four months to create, because the Miracle Broth™ has to percolate or ferment. After it has brewed it has vitamins and other natural ingredients as well as essential oils added to it and it is hand packed into the iconic opalescent jars for the public.


All of this is done to the specific recipe that was created by Doctor Huber all those years ago.But the Le Mer brand is more than just face cream.


Le Mer also offers face and body treatments as well as tinted moisturizers and foundations, all with the Miracle Broth™ as the base.


People are put off by the price tag, and let's be honest. Cream De Le Mer cream is expensive on the front end, coming in at one hundred thirty dollars, for the initial outlay for a one ounce jar.


That sounds like a huge amount of money, but when you think about it, it will last you about three months of use, because a little goes a long way, here. A very small pea sized dollop of the cream will cover your face and neck, nicely at night, before bed. Half again that much will do the same during the day.


La Mer Cream – How To Apply
The directions are very simple. Warm that small amount of cream up in with your fingertips to release the Broth's mystical magical properties, and smooth it onto your clean dry skin.


The scent is very light and fresh, not like some of the other "drug store" brands that are very popular and its ability it soft and hydrate far outstrips its competition.


The bottom line is does it really work? The reviews on the La Mer's website and other websites around the internet are incredibly positive. Creme De La Mer is a hit!


People are astounded by its ability to help with overly dry skin and the fact that it doesn't irritate the skin like other skin care products in its category, on the market.


La Mer is coming out with new "miracles in a jar" all the time. Adding eye treatments with silver tipped applicators, that help with the circulation around the eye area.
Also, they now having lifting serums that will, over time, help to create the appearance of smoother more youthful looking skin to the line only makes La Mer cream all the more a force to be reckoned with, in the skin care market.


Cream De La Mer and its Miracle Broth is the ultimate in luxuries, but in the end it is one of those affordable luxuries that shouldn't be done without, as we fight the aging process. Click here to get La Mer Face Cream at a substantial discount
. And as always – FREE Shipping.


---
Return from Creme De La Mer to Clinique Cosmetics

Return from Creme De La Mer to Wrinkle Free Skin Tips for more great tips on buying skin care product and videos