Homemade Christmas Gift Idea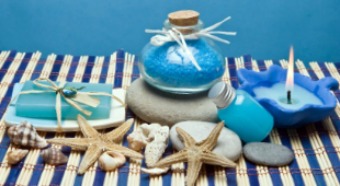 Looking for a great homemade Christmas gift idea?


Rather than buying something impersonal, why not put together some simple ingredients and make a homemade beauty/skin care basket.


Make some homemade Christmas gifts that any woman or man would love to use. I got this type of gift a few years ago and loved it. It was pretty, functional, personalized, yet inexpensive for the giver (in this case was it my niece who was still in college and on a budget).


One homemade product everyone would love (man or woman) would be a fragrant body scrub. Who doesn't have problems with rough, patchy skin on their elbows, knees, or feet?


While it may sound complicated to make, it's so simple – just don't tell that to your friends and family. They'll be so impressed with your creation – they'll think you spent hours making it!!


TIP: Try to keep the items (candles, soaps, and accessories) in the same color scheme or theme. I love everything to do with the ocean - so I always use seashells and starfish.
The recipe is so simple:
Start with a bowl of white or brown sugar, or salt
Then add your favorite body oils like almond, peppermint, lemon, orange blossom, or evening primrose oil
Mix it all together and place in a beautiful jar that you can buy at any yard sale or antique shop......now you have a wonderful body scrub worthy of any first-class spa.
Then put this together with a beautiful scented candles, maybe some Goat soap or hydrating Tokyo Milk Soap
(which by the way smells like Japanese Bamboo and green apples!) Then wrap a small ribbon around it and throw in some unusual looking rocks, starfish, or glass pebbles and it'll look like you spent a fortune on it!


Or you can fill the entire basket with little jars of sampler scurbs!. Try use smaller jars and make several different scrubs, just by changing the essential oils. One can be orange blossom, another can be lavender, and another cinnamon depending on whether they want to energize or relax and decompress.
Packaging the scrubs is quite easy too:
Use small mason jars
Or clean baby food jars are also a perfect size
decorate them by gluing little ribbons on the lid
Or try wrapping the entire jar in a scrap of fabric tied on top of the lid with a ribbon
Also, many computer software programs have templates for designing labels that you can dress up a jar with.
You should also attach a tag with general application instructions, which are simply to apply the scrub to wet skin using a circular motion, concentrating on any rough or dry patches, avoiding any sensitive areas, open wounds or blemishes, or irritated or sunburned skin. And, as stated above, try to keep everything in the same or matching color theme for that extra oomph.


Homemade Gift Basket Ideas - Homemade Christmas Gifts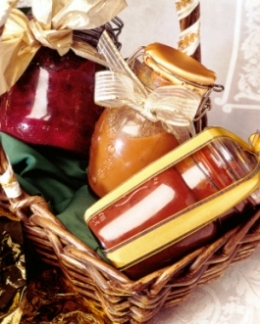 If you are looking for homemade gift basket ideas, just take a little basket (you can find these in your attic left over from Easter or at any store like Target).


In your basket (or decorative gift bag) add some colorful tissue paper, then place your little jars filled with the homemade sugar scrubs.


Then add an aromatherapy candle, a bath mitt, maybe some fragrant soap and perhaps even a skin care recipe booklet.


This way the so recipient can try making various scrubs and moisturizers of their own -- all year long!


My favorite book to have and to give as a gift is Naturally Skinsational. This one book contains over 150 different skin care scrubs, moisturizers, facial washes, and mask recipes.


I have used it "Hundreds of times" in the last year and you will too!!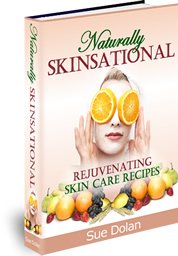 This book is also chock-full of recipes for toners, steams, wraps and even special occasions recipes. Every recipe uses simple everyday ingredients, many of which are probably sitting in your kitchen cupboard right now, and a large number of them offer anti-aging properties.


While the "Naturally Skinsational" is available for immediate download as an e-book, I rather purchase the hard copy for gift giving since it's so beautiful. Even given alone -- it makes a great homemade Christmas gift idea because all the recipes are homemade from your own kitchen.


Also, at the time you place your order, you will also get a free starter collection of 12 downloadable recipe cards as well as an invitation to register for a free e-course that will get you started on your natural skin care routine. Your skin and your wallet will thank you!


Remember that a homemade Christmas gift idea need not be complex or costly. The meaning matters most. Unlike another bathrobe, box of candy, or bottle of perfume……giving friends and family a way to care for their skin is thoughtful and useful any time of the year. And what woman isn't concerned about her skin?
Additional Reading for Christmas Gifts Ideas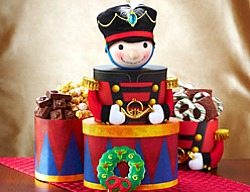 Gift Basket Coupons and Promotion Codes - Can't come up with a great homemade Christmas gift idea? Don't have time to make your own? Use these promotional codes to receive huge discounts and savings. Don't pay full retail anymore!


Visit Holiday Gift Ideas for Women - looking for cute stocking stuffers or unusual gift ideas for women? Check out this page.


Also don't miss for year round savings, clearance sales, and special offers.


---
Return from Homemade Christmas Gift Idea to Holiday Gift Ideas For Women

Return from Homemade Christmas Gift Idea to (Home)