How To Cover Dark Spots on the Face
Makeup Tips to Cover Sun Spots
Want to know how to cover dark spots on the face, hands, and chest? Well, you're not alone. This is a common question for most men and women over the age of 40….especially if you're sun lover or didn't practice safe sun tips.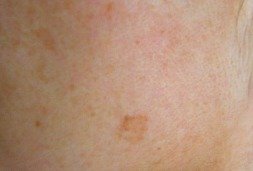 If you're reading this then you probably realized, like me, that removing dark spots on the skin is very difficult and expensive…..sometimes it's just easier to cover them up, improve the appearance of our complexion and try to prevent further damage and aging.


Why are dark skin spots so hard to get rid off? Well, one reason is the by the time you see them, the damage is done and has been going on for years and years. ..long before we saw sun spots or freckles.


Most of us start to see signs of sun damage in our mid-30's, even still many don't take this sign seriously, until we're in our 50's – then we start to panic.


When you're in your 50's your skin does not react the same as it did before. Even the shortest UVA/UVB exposure can cause blotches, spots, and freckling. Mature skin requires a multiple pronged approach to improve it's appearance and prevent further aging. First and most important – use a high SPF sunscreen all the time!


Now we can't always avoid the sun – think summer vacation at the beach, or just biking in the summer time – so the next best thing is to wear UV sun protective clothing.


There are some really great looking long sleeve tops that actually make you feel cooler because they're super light, breathable, and keep the burning rays off your skin. While snorkeling at the Florida Keys recently - I noticed these T-shirts were being worn by young and old alike.


How To Cover Dark Spots on the Face - Best Makeup Tips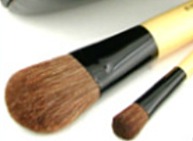 Before applying any makeup make sure to wash, exfoliate, and dry your face. Then apply a moisturizer and let sit for a few minutes. It's important to moisturize first for the best and natural results.


To cover multiple dark sun spots on the face, I like to use Dermablend
foundation for many reasons....
goes on super creamy
its smooth and blends well
dries fast
non-comedogenic and non-acnegenic
fragrance free and allergy tested
water resistant
transfer resistant so it won't rub of
last up to 16 hours
contains sunscreen to prevent more sun spots
Ok, now on a dry clean and moisturized face, place a Tiny dot of the foundation on your cheek and quickly spread it by blending up and down until you've covered the whole one side of the face. Then do the other side of he face. Don't forget to blend well on the lower jowl and neck.


The Dermablend is a heavy pigment cover-up so a little goes a long way. Next, What I like to do is take a dry old towel and just lightly buff the face, to remove any excess pigment. This gives it a even more natural look.


How To Cover Dark Spots on the Face - Makeup Tips for Only One or Two Spots


If you only have one or two spots on your face, then can just use the Dermablend concealer
. Since most sun spots are brown/coffee colored – choose a concealer that matches your skin as closely as possible.


Because the Dermablend is a heavy pigment concentration, you can use it as a spot concealer too. And one little tube will last forever!


How To Cover Dark Spots on the Face with Concealer


First wash, dry and apply your moisturizer, sunscreen and foundation…the concealer should be the last thing you apply.


Take a small makeup brush or small sponge tip applicator (the kind that is used to apply eye shadow- make sure it's clean) and put a tiny dab of concealer on the tip.


Then, gently dot the spot/s and let it dry. Next, take your finger and gently blot it and try to smooth/blend the edges into the surrounding area.


Covering blemishes can be tricky and you will have to practice several times before you get the hand of it. Next, apply some lose powder to set the concealer and you're done.


Now you know how to cover dark spots on the face and body, with a little practice you'll have smoother skin in no time.



---
Return from How To Cover Dark Spots on the Face to Get Rid of Age Spots

Return from How To Cover Dark Spots on the Face to Wrinkle Free Skin Tips