Laser Stretch Mark Removal
Preventing Strech Marks is The Best Defense
Laser stretch mark removal is pretty effective, especially compared to many over-the-counter methods. However, not everyone can afford this type of treatment.


Obviously, preventing stretch marks is a good idea and the cheapest alternative. But, not always easy to do.

Continue reading below for tips on preventing stretch marks before any damage is done......................
If you already have visible stretch marks and you're looking for stretch mark removal alternatives........we'll cover some basic facts on laser treatment and provide some over-the-counter alternatives to help improve the appearance of your skin.


Stretch Marks – LaserTreatments for Red Stretch Marks
The pulsed-dye laser treatment is pretty gentle and safe and is often used to discolored blemishes like rosacea, red scars and stretch marks, port wine stains, cherry angiomas, and malasma.


This can also help stimulate collagen and elastin product – this can help improve the way the skin looks and reduces the appearance of discoloration. Patients usually require multiple treatments before seeing desired results.


Stretch Marks – Treatments for White Stretch Marks
Fractional lasers are often used for white or textured marks. The doctor usually performs a series of treatments and often gets between 30-50 percent improvements.


While this of laser stretch mark removal option requires minimal downtime, there is a risk of post-inflammation and hyperpigmentation in people of color. Your doctor will often do a patch test first to make sure you're a good candidate.


There are basically two types of fractional laser treatments - Ablative and non-ablative.
Think of ablative laser as controlled burning or vaporizing the of the upper layer of the skin. As it heals, collagen is produce and the area becomes tighter and smoother.


On the other hand, non-ablataive laser does not damage the outer skin, but heats up the deeper layers of the dermis. This process breaks down collagen only to have it rebuild again – but this time tighther and firmer.


Since this type of laser does not affect the upper layers (i.e. resurface the dermis), one would think it wouldn't be as effective for surface problems like acne, blemishes, hyperpigmentation, scars, and deep stretch marks.


Especially when some stretch marks are visible raised bundles of collagen which you can feel and see. However, your doctor would be able to determine which type is best for your skin color, and condition.
Laser Removal of Stretch Marks – The Facts
Is It Painful - Treatments might be slightly uncomfortable, but most people tolerate it pretty well.


Recover Time - Recovery time is minimal. Most people only experience slight swelling and/or redness for about a week. Your doctor will provide more detailed instructions on care and post recovery.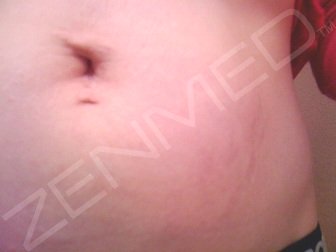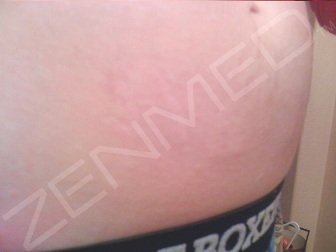 While the pictures above are not too clear, but they are real life pictures from a woman using a glycolic acid cream. You can see the red map like red lines starting on the right side of the belly button and coming down to the center and left side....Thanks for sharing Michelle.


How To Prevent Stretch Marks
While we would all like to try to prevent stretch marks -- there are times when we have no control. There is some evidence indicating that some people are more prone to stretch marks than others. If someone in your family – like your mother or father – tend to have stretch marks…………chances are you'll be prone to them too.


If that is the case, you can try to prevent them if you're pregnant or during a time of extra weight gain by using body creams that contain alpha hydroxy or glycolic acids or retinols.


These creams can help slow the formation of stretch marks by exfoliating. If you are pregnant – check with your doctor before using alpha hydroxy or retin-A.


In fact, strong alpha and glycolic acids can help reduce the appearance existing stretch marks, scars, wrinkles.


It does this by slowing removing the outermost layer of the dead, rough, raised skin – so it thins the stretch mark and scar – improving the appearance. It also works great to lightening up the skin and reducing fine lines.


Some studies show that strong glycolic acid is safe and effective in improving the appearance of the mark. Adding 0.05 % tretinoin (prescription Retin-A) helped even further to increase skin thickness.


---
Return from Laser Stretch Mark Removal to Tips For Healthy Skin

Return from Laser Stretch Mark Removal to Wrinkle Free Skin Tips to see more wrinkle free skin tips and pictures