Melasma Cure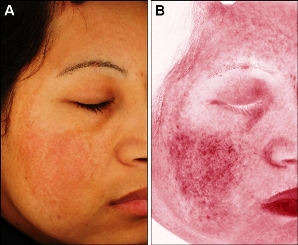 Are you one of the thousands of people looking for a Melasma cure? unfortunately, there is no permanent cure, but, there are Melasma treatments available that help relieve symptoms and improve skin tone.


What Are Melasma Symptoms?
Melasma is a skin pigment disorder that appears gradually. Symptoms include irregular dark patches on the cheek, lips, nose and forehead…...usually areas that are exposed to the sun. While it does not pose a medical threat, it does cause significant embarrassment, frustration, and even self-esteem issues.


The exact causes of Melasam are not known, but it is more common in pregnant women, women with dark skin and women taking birth control or hormone replacement.


Getting Rid of Melasma
While there is no Melasma cure, there are several treatments options available - ranging from lightening creams to laser and chemical peels and microdermabrasion.


A recent study published in the American Society of Dermatologic Surgery suggests that use of a triple cream that combined - fluocinolone acetonide 0.01%, hydroquinone 4%, and tretinoin(Retin-A) 0.05% - used in conjunction with IPL (intense plused light) proved to be an effective treatment for those with moderate to severe Melasma.


Other options for getting rid of Melasma? Well Brazilian researchers found a more natural option using a cream made from Emblica, Licorice and Belides - which offered significant results when compared to 2% Hydroquinone cream. Again, with all these treatments a good face sunscreen is a must!


Getting Rid of Melasma - Natural Alternatives
Natural Alternatives for Getting Rid Of Melasma


There are a few studies that suggest a combination of antioxidants (A,C, E)and Grape Seed Extract along with over-the-counter creams containing natural plant extracts like ellagic acid and arbutin can significantly reduce the level of melanin (dark skin pigment).


In addition, some studies suggest that grape seed extract may even help prevent Melasma from getting worse during the sunny summer months. If you decide to try natural treatments be patient - studies showed that it may take up to 5 or 6 months before significant improvements can been seen.


To learn more about effect skin lightening cream that contains arbutin and grapefruit seed extract click here: natural skin brightening cream.


Reference Studies
Here are more reference studies on using creams with arbutin/eEllagic acid and taking oral supplements of grape seed extract for improving melasma symptoms:
Ellagic acid and arbutin - Efficiency of ellagic acid and arbutin in melasma: a randomized, prospective, open-label study - Journal of Dermatology


Oral intake of proanthocyanidin-rich extract from grape seeds improves chloasma (melasma) - Phyto Therapy Research


A randomized, double-blind, placebo-controlled trial of oral procyanidin with vitamins A, C, E for melasma among Filipino women - International Journal of Dermatology.


---
Return from Return to Get Rid of Age Spots

Return to Wrinkle Free Skin Tips for more info on sagging face, neck, and other aging skin problems



Photo courtesy of Annals of Dermatology - http://www.ncbi.nlm.nih.gov/pmc/articles/PMC2991712/figure/F2/