How To Fix Under Eye Wrinkles
Great Solutions for Crinkly Lines Around Eyes
Common we all get under eye wrinkles eventually, even babies have them. But, when they turn into those crepe, crinkly lines under, above, and in the outer corners of ours - then it starts to age us and make us look tired.


There are a ton of solutions for under eye treatments ranging from drugstore creams to laser resurfacing and other surgical procedures. But, most people are looking for really effective treatment - least expensive solution - to look better and get rid of that "tired look".


So we won't discuss cosmetic surgery or prescription creams (like Retin-A) which are great and effective options. Instead, we'll explore the benefits of using Copper Peptide Eye Creams.


In my opinion, experience, and based on some interesting research - copper peptides really make the best eye wrinkle creams.


Under Eye Treatments - Long Term Solutions
Under eye wrinkles are categorized as pesky fine lines, folds, and crinkly skin around the eyes. These type of wrinkles are called Static wrinkles. - These lines not only appear around the eyes but on the upper cheeks too.


What makes find good treatment so difficult is that this area is very delicate, thin, and difficult to keep healthy.


In addition, under eye wrinkles are further exaggerated by over-use of harsh cosmetics, make-up removers, and cleansers. So to be effective an eye cream should be able to do some or all of the following:
reduce wrinkles and fine lines
strengthen and tighten the skin
improve elasticity and build collagen
prevent new wrinkles from forming as we age
Why Copper Peptide Eye Creams?
Copper peptides are a combination of a copper ion (a trace element found in every cell within the body) and a peptide (a small protein fragment). They are known to have anti-oxidant, anti-inflammatory properties, enhance wound healing,and stimulate collagen production.


Unfortunately, this type of cream has only been available through plastic surgeons and dermatologists. In fact, many recommend copper peptide creams for post surgical healing from procedures like laser skin resurfacing.


Hundreds of studies have demonstrated the rejuvenating effects of copper peptides to stimulate wound healing in human and animal models and provide an extraordinary anti-aging effects on human skin.


Dr. Loren Pickart from Skin Biology is credited with discovering the first generation skin remodeling peptide complex called GHK-Cu. This stands for glycyl-l-histidyl-l-lysine:copper (II).


Best Under Eye Treatments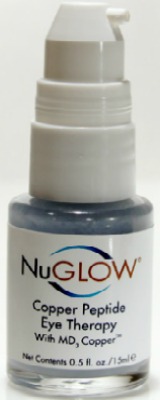 There aren't many under eye treatments on the market that contain this special form of Copper Peptide -- making it hard to find anti aging creams that contain stable GHK-CU peptides.........


A company called Neova - who once only sold their products to plastic surgeons - started offering copper peptide eye wrinkle creams to the public.


However, recently a new type of peptide called MD3 Copper Peptide Eye Therapy became available at a very affordable price without having to pay for a visit to a plastic surgeon or dermatologist.


How is this different than regular copper peptides? MD3 copper is a smaller molecule (about 60%), than standard GHK copper – for improved absorption and enhanced benefits.
Interested in reading the study? Click here:Why MD3 peptides are different?




Looking for something? Enter the word or phrase in the search box below and we'll help you find it.
---
Want more tips for Under Eye Wrinkles? Then visit Swollen Baggy Eyes

Return to Wrinkle Free Skin Tips (Home)