Waterproof Makeup Foundation
I hate the look and feel of waterproof makeup foundation!
Now matter how expensive the brand - my skin always looks pasty, cakey and well just like I'm wearing a ton of makeup.
I prefer a natural, glowing skin look with a bit of healthy shine. But it would be nice to find a foundation that lasts all day and can help even out my freckled skin tone.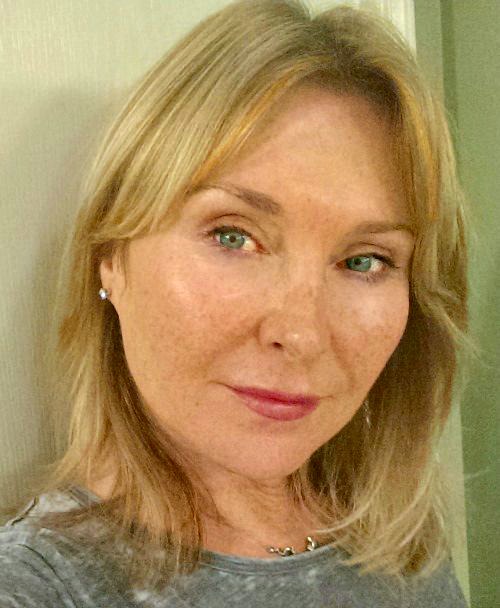 I'm wearing the Mineral Dual makeup foundation in the picture above.
You can still see some of my freckles - but my skin tone looks so smooth and poreless. 
And it still has that nice healthy shine (not greasy) that I had when I was younger.
Easy waterproof
makeup foundation
My other pet peeve about liquid waterproof makeup is that many clogged my pores which resulted in breakouts.
OH, and, was it just me - or did everyone else find waterproof foundation just impossible to wash off???
Because I have freckles I've been wearing makeup foundation since high school. And I'm always searching for that right one provides enough coverage, but doesn't ruin my skin or look like I'm wearing a lot of makeup.
I must have tried hundreds of brands over the last 20 years. As soon as I find one - they seem to discontinue the brand! Just hope this stays around for a while.
I also use a lot of other products by Mommy Makeup because they're inexpensive, last forever, look great on my skin and work well.
This line was developed by a famous makeup artist (Deborah Rubin-Roberts) and she made her products in a way that many of them offer dual uses. 
Like the eye cream shadow can be used as a blush, eyeshadow and highlighter........depending on what colors you choose. I use the Champagne Eye Cream which works well as a cheek highlighter and an eyeshadow! Oh, and this is waterproof.............Nice!
You can see how it looks in the photo below.......it's on my upper eyelids.
Ok, so give it a try and drop me a line and let me know how you like the mineral foundation.
Remember, it's not an actual waterproof makeup foundation - but it does last all day.

Home

›
Makeup Reviews
› Waterproof Makeup Foundation