Got Tired Looking Eyes?
Are you tired of looking at those tired looking eyes?

It's frustrating when you feel great and rested, but your eyes tell a different story.

Well, if you're over 40 and in good health, most experts (dermatologists and plastic surgeons) blame it on simple age related eye issues. Issues like:
- puffy upper and lower eyelids
- crinkles, lines, and wrinkles
Just one or all of these issues can make you look more tired than you really feel.


5 Tips - 5 Minutes
My Remedies for Puffy Tired Looking Eyes
Regardless of how I feel or look, now that I'm over 50, these 5 tips have become part of my morning routine.


Try one or all of these remedies next time you look in the mirror and see those tired looking eyes.

1.Use a medium brown eye shadow (just a shade or two darker than your natural skin color) and sweep across the upper eye lid. Make sure to place it right into crease. This will help define and shape the eye while reducing the look of upper eye puffiness.
2. Dap a dot of concealer (a shade or two lighter your natural skin color) in the inner corners of the eyes, just outside of each tear duct. HINT: I let it dry a bit before blending in. If it's too "wet" when you try to blend it, you'll wind up wiping most of it away.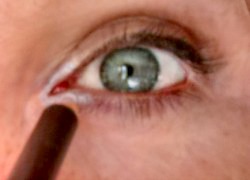 3. Apply a touch of white eyeliner in the inner corners of the bottom and upper eyelid...making a V shape. Then lightly blend in.
4. Apply a highlighter or sheer pearlescent eye cream - like the Easy Eye Solutions Illuminating cream - in the hollow of the eyes. Under the puffy area.
5. Hide tiny lines and wrinkles and lift up the lower eyelids with an eye lifting serum like Instant Eye Tuck. Smooth a tiny drop after you've applied your concealer or moisturizer. Within minutes you'll feel the skin tightening as it dries and forms a soft flexible film across the lower lids. It also helps lift and reduce the look of puffy eyes and dark circles too.


Watch this video to see how it works.


Many of you have wanted try the Instant Eye Tuck Serum but didn't want to invest in a full size bottle. So due to popular demand, we're now offering sample size bottles AND Free Shipping!


Now is a great time to try it!




Until next month stay healthy and strong.



Sincerely,


Linda

*************************************