How To Eliminate Adult Back Acne
How To Get Rid of Blackheads on the Back
Adult back acne, pimples, blackheads, cysts, and scars……….......


These can be so embarrassing - especially during the summer months since the breakouts usually show up on the shoulders and chest too.

This makes it difficult to wear shorts, t-shirts, tank tops, and bathing suits.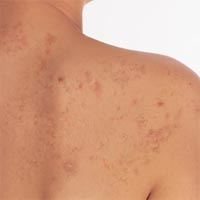 Plus, these breakouts often cause back acne scars which are almost impossible to get rid of. At this age in our life, we would hope that we're done with acne and breakouts.


So what cause acne on the back? Well, nobody really knows why some are more prone to it than others. They blame stress, excessive sweating, fatty foods, hormone imbalance, excess oil production…...but it's most likely due to genetics.


Chances are pretty that if someone in your family had a problem with acne - most likely you will too.


And, body acne seems more difficult to treat because the dermis on the body (like back and shoulders) is much thicker, has more pores, and can clogged/irritated more easily due to sweat or clothes rubbing/chaffing against the skin.


If you're not sure what you have is adult back acne and notice extreme redness, unusually large whitehead, pus, infection, or pain - please see a dermatologist before trying anything on your own.
You may be dealing with Boils...See Pictures of Boils.


Remedy For Adult Back Acne - How To Keep It Under Control
While nobody can pinpoint exactly what causes it or how to cure it completely, there a few tips to follow to help keep your back and shoulders clearer and healthier looking - so you won't feel embarrassed in a tank top, bathing suit, or strapless dress.


Keep in mind that friction, sweat and chaffing can make matters worse, so whenever possible or when the symptoms flare up, try to prevent irritation - which only serve to exaggerate the symptoms.


Change your clothes and shower with cleansers made for body acne immediately after a workout or heavy activity. 
You don't want sweaty wet clothing irritating the skin and enhancing bacteria growth.
Wear loose breathable clothing whenever possible and while sleeping.
Don't use body lotions, gels, suntan lotions, sunscreens, or sunless tanning creams, unless specifically designated for acne prone types.
Pay attention to the type of laundry detergent you use. If it contains something that is slightly irritating - it can affect your symptoms. To be safe, use a scent free detergent and fabric softener.
Do you dry clean your clothes often? Some people are sensitive to the chemicals used to dry clean their clothes. See if there is a connect.
Use a weekly or bi-weekly acne body mask to reduce excess oils and clear up pores.
Many people find that using the mask as a spot treatment can clear up potential breakouts overnight - before they get out of control.

Important: While using specific products designated to clear up and heal acne can go a long to help with healing, be aware of what you come in contact with too.
Pay attention to anything you come in contact with that causes irritation.


Also, be wary of aggressive acne products. Over aggressive products can remove too much oil can cause a rebound effect - which eventually makes the situation even worse.
Your cleanser should concentrate on reducing bacteria and calming the dermis...not drying it out.