Makeup for Aging Skin: Concealer and Foundation Tips for Over 40

Using makeup for aging skin - especially concealers and foundation - can be tricky especially if you're dealing  with aging issues like skin spots, dark circles, dry skin and wrinkles.
Many women do not know how to choose, use or blend concealers and foundation properly for a natural look. If used the right way, they can have  tremendous anti-aging effects - especially for aging eyes.
So what can you do? Check out these natural makeup tutorials for beginners over 40. You'll get that soft natural glowy makeup look in no time.
I've had freckles, sun spots and dry facial skin my whole life. Dealing with these issues by and covering them  up and using expensive heavy makeup foundation was easy when I was in my 20s. 
But now in my 60s, not so much. First of all, I don't want to spend a ton of money for makeup anymore!
And second, heavy makeup looks awful on older, mature skin while light or sheer makeup foundation does nothing to hide those shadows, spots and other imperfections!
Makeup for Aging Skin - Concealer Tips
Unless you have perfect skin tone, most of us can benefit from a little help... Like Mommy's Little Helper.
Watch this tutorial on how to use concealer without that cakey look.
I'm a huge fan of Mommy Makeup for aging skin.
Developed by famous makeup artist - Debra Rubin -  this makeup is simple, clean and does the job of making my skin look sheer and perfect.
Also her line of mineral makeup products naturally contain anti-inflammatory/anti-aging/antioxidant ingredients, so their actual good for your complexion.
Check out her tutorial below on how to use a primer. She also shares some backstage makeup tricks to make your skin look even better!
TIP: If your complexion is dry - try mixing mineral powder with your favorite moisturizer or anti-wrinkle primer. Mix them up in the palm of your hand and massage all over face. In the winter, try adding a dash of bronzer for a beautiful sun-kissed glow!

---
SUGGESTION
If you're looking for a healthy mineral makeup that provides super coverage then try pairing the mineral makeup with concealer.
Debra sells the concealer separately and many women over 40 find that just the concealer alone is enough to even out skin tone.
Remember, too much makeup on mature skin can actually make you look older!
 This mineral makeup brand was also designed for sensitive, acne, aging, or rosacea too.  And most important -  it is free of irritants like bismuth oxychloride.
Foundation Makeup Tutorial for Over 40
By far, the most popular mineral makeup for aging skin is a non-drying mineral foundation.
A well made pressed powder foundation provides gorgeous coverage and tone, but many women over 40 have a hard time using loose mineral powder makeup. We all seem to run into the same problems including:
how do you make your foundation go on smoothly?
what can you do to stop patchy or cakey foundation application?
what if you have dry or scaly skin? 
And, if you try one of those specialty "makeup for aging skin" products they're usually loaded with oils which make your face look too greasy or shiny and exaggerate enlarged pores.
So a good solution is to stick with your favorite mineral powder makeup, but just apply a primer first. The primer helps hydrate the skin and allows the foundation to glide on easily and smoothly.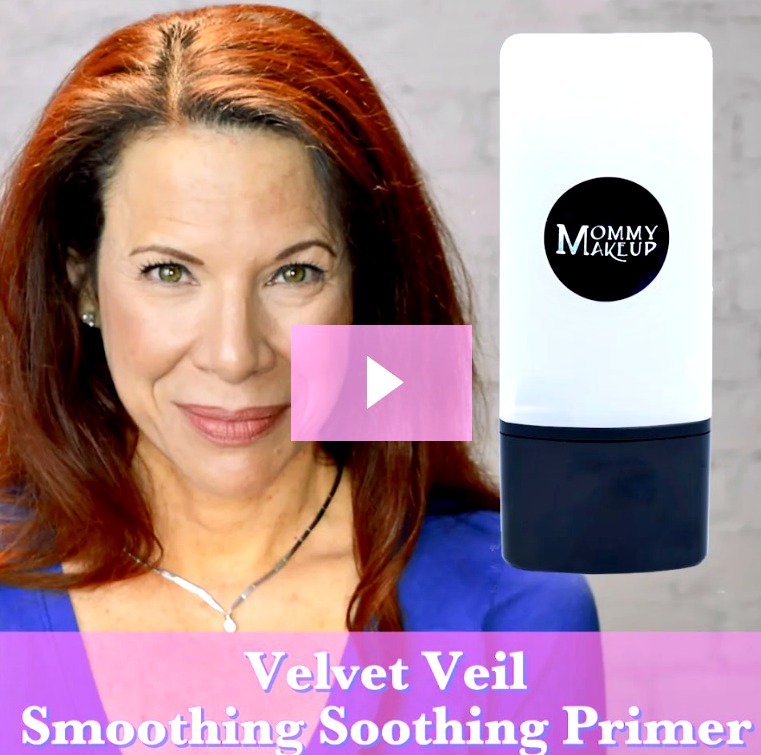 PLUS - If you have enlarged pores or dry skin, after you apply the powdered mineral foundation, you should a  smoother, hydrated glow.
As we age, our complexion changes and it's hard to find makeup that enhances and brings about that youthful glow we once had.
Try these anti-aging mineral makeup foundation primer and concealer for a change. Unlike high-end department store or cheap drugstore makeup - this makeup for aging skin is budget$$$ friendly and only takes minutes to apply. It's a win-win!

---
Additional Reading

Makeup for Aging Skin