Best Serum Ever!
by Agatha Kingsly
Hi I just came up on your site by search, and found a whole lot of interesting and useful info!

I want to share my story on my finding about this great serum which helped me so much. My friend had started using the skincare line "Ariona" and I started asking about and when I ordered the serum from hem and got it I was amazed.

After one week use my dark circles are brightening, crows feet are smoothing out and my skin simply feels firmer. What got me to buy this product in the first place was that its 100% Natural and 90 what not (I forget lol) + % Organic so I was very skeptical that natural ingredients could help so much against aging.

Also what I loved is that its water free meaning its extremely concentrated a little goes a long way. Another thing stimulating me to buy was the Coffee, Gren Tea, and Camu Camu, and Argan in it.

I'm not going to rant bout the ingredients check it out on their site :) arionaskincare.com but basically speaking I use this daily morning and evening.

If you want to know what moisturizer I use is Burts Bees radiance cream. So yeah that's all. Agy -
--------------------------

Hi Agatha,

Thanks for sharing. I'm going to look into that serum and see what's it's all about.

Linda, Admin
Click here to read or post comments
Join in and write your own page! It's easy to do. How? Simply click here to return to facial-skin-care-products-C2.
Esotico Rejuvenating Night Cream
by Linna McGreggor
(US)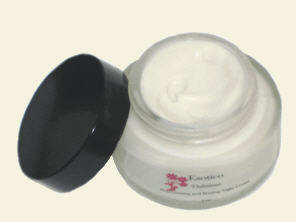 Esotico Rejuvinating Night Cream
I got this night cream from this website since i had gone natural. The results were absolutely amazing, I did have really dry skin before and my skin is now glowing.

It also leaves my skin silky soft and is very affordable! I would really recommend this product for anyone's daily skin care routine, i use it before i go to sleep and wake up with skin i can love!! i hope this just might help somebody else, like it had helped me... :)


-------------------------------------------
Hi Linna,

Thanks for the product recommendation!

It sounds good.....I'm going to have to check this out.

Maybe I'll listed it on my
Product Guide page.

How long have you been using it?

Thanks,
Linda, Admin

P.S.Has anyone else tried this product or found a product that helps with excessive dry skin?

I'm sure many of us suffer from dry itchy skin this time year.

Share your information with us.....we love to hear what all have to say :-)
Join in and write your own page! It's easy to do. How? Simply click here to return to facial-skin-care-products-C2.
What Brands Do You Recommend?
by Judy
I wanted to know a specific brand (best brand)to use of copper peptides which contains the GHK-CU. Also, what type of lactic and salicylic acid to use and EMU oil?

Thanks

Judy

--------------------------------------------------
Hi Judy,

Hi Judy,

Thanks for your question.

The best overall copper peptide (with GHK Complex) is
Neova Night Therapy .


A few years back, a friend of mine had Laser
Skin Rejuvenation to tighten and smooth her skin. She was given this cream to help heal the skin and encourage collagen production -- back then, this cream was only available from plastic surgeons!!!

This cream is so important after any type of laser surfacing -- because if your skin does not produce enough collagen during the healing process -- you could wind with worse skin than you started with.

Doctors knew this and that is why they recommended this cream to encourage proper healing.

My friend kept buying this cream from the plastic surgeon long after her surgery -- now she can buy it on the internet.

And her skin looks great and she's now in her late 60's and hasn't needed to refresher touch-up.



Here are my favorite selections for the other products you asked about…… The links below take you to the product page....you will have scroll down to view the copper peptide and emu oil product.



Salicylic Acid – Benev Salicylic Acid Exfoliator 2%. This is strong stuff and is best used on areas of the face that either oily and/or have clogged debris filled pores. This little bottle lasts a long time.



Lactic Acid – Try the Sumbody Lighten Up Skin Face Serum.



Emu Oil – BNG's Natural Treasures 100% Emu Oil .

Hope this information helps. If you have any further questions, please feel free to ask me.

Linda, Admin
Join in and write your own page! It's easy to do. How? Simply click here to return to facial-skin-care-products-C2.
Organic Skin Products With Pure Vitamin C
by Marie
(California)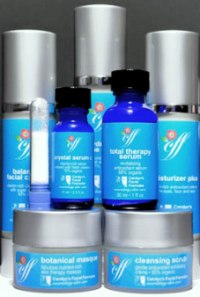 Certified Organic Skin Care. This is how to have healthy skin
Hi Linda,

I noticed you don't list any organic skin products. I love vitamin C creams and try to use mostly natural organic products on my face.

But it was hard finding a product line that makes certified organic skin care with vitamin C and other antioxidants, but I finally did. It's made by Carolyn from Facial Fitness.

First, I just tried the vitamin C serum, but now started using the whole line. After 3 months I can see that my skin is brighter and the tone is super smooth with less discoloration.

Also, my crow's feet have softened up so much that they're barely visible. This serum really does it work. Carolyn say's it's because the vitamin C comes in dry crystal form and is mixed up fresh right before you use it so it super potent.

I especially love the Total Therapy Serum because I have sensitive skin that gets irritated easily and this serum has a nice creamy feel and is super hydrating.

It's loaded with DMAE, organic aloe, organic rooibos tea extract, organic white tea extract and hyaluronic acid. Love it, organic antioxidants! My skin looks so much healthier now.

I'm really impressed with this line and wanted to share this information with you. You should start recommending it.

Thanks,
Marie

P.S. I signed up for your newsletter a few months ago and put your address in my contact list but haven't seen it. Should I sign up again?




Click here to read or post comments
Join in and write your own page! It's easy to do. How? Simply click here to return to facial-skin-care-products-C2.