The Perfect Under Eye Concealer Application
Undereye concealer application can be tricky. Obviously, done correctly, you should look bright and rested. But misplaced, Raccoon Eyes! So, what to do?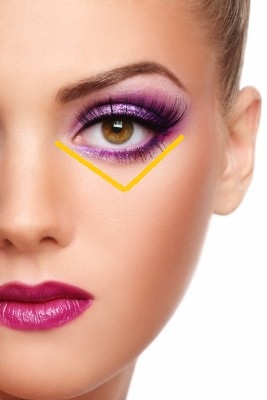 Well, that depends. What is you're trying to achieve? Got serious dark circles or just looking to lighten your face and look more awake? 

If it's dark under eye circles that you're concerned with........


Most makeup artists say that the perfect concealer application should not go too far under the eye.


Otherwise you'll get that dread raccoon look.


They say it's best to keep the concealer makeup close under the eye. Try concentrating on the upper portion of the circle for the most natural look.


Remember The V shape
Apparently, it's all about the V shape. Concealers and highlighters look best and flatter the most when applied in a V shape.


What About Applying Concealers for that Puffy Tired Look?...........(see photo below)


Use a lighter colored concealer like the Illuminator cream and bring it down along your nose and make a V shape sweeping out across the tops of your cheeks and to the outer corner of the eyes.


The advantage of starting the concealer along the nose line is that it not only hides puffiness, but also dark hollows under the eyes too.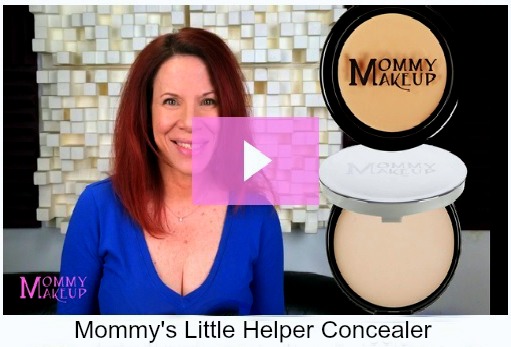 Watch Debra owner of Mommy Makeup's Little Helper Concealer explain the best way to apply your under eye concealer for a brighter, wider, more awake look

What Applicator To Use?
Brush, sponge, Q-tip, or finger? There is no wrong applicator – it's more a matter of what you most comfortable using.


However, lately, it seems that many makeup artists are recommending using your own fingers to apply foundation and concealers – because the warmth of your body helps it spread more evenly and smoothly.


I agree and have always been a fan of using my fingers to apply all my makeup….even eye shadow. Sponges, brushes, and Q-tips maybe great to use as an applicator.


But I think warm fingers work best to spread, smooth, and blend.


Now in applying a concealer, a sponge or brush might allow more precision in getting it right onto the correct spot……often dark eye circles only need a tiny amount of makeup to correct the color….so yes, if needed use a brush or applicator.


Especially, if your problem areas are in the deep corners of your eyes. Or you have a lot lines or thin crepey skin.


But then, use your index or pinky finger and dab, dab, dab….until it's absorbed and blended. Yes, doing this may lift some of the product. Then just apply a little more.


Sometimes, several lighter layers look more natural than a bold strip under your eye or a bright dot in the corners. 


Home

›
Treating Dark Circles
› Under Eye Concealer