Contour Thread Face Lift
The newest in non-surgical face/jowl lift procedures is the Contour Thread Face Lift – which is sometimes called the Silk Lift, Feather Lift or, APTOS Thread Lift.
This procedure helps to lift sagging tissues around the eyes, eye brows, cheeks, jowls and neck. It is especially useful for a jowl lift.
How Does The
Contour Thread Lift Work
After the face has been cleaned, marked and anesthetized, the surgeon inserts a small hollow stainless tube through the specific marked areas, along the subcutaneous fat, all the way until the exit point.
Then the APTOS thread is inserted into the tube. The thread looks like a barbed wire with little "hooks" along the side.....
These hooks help to pull up sagging tissue......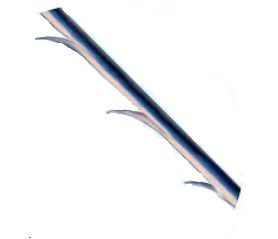 Here is a magnified picture of the contour thread
This thread is then pulled all the way through to the other side of the tube and the tube is removed.
The thread is tugged and positioned into place and then anchored when proper placement is achieved. The excess thread is cut just at the skin level and placed under the skin. 
Although this procedure in detail may vary slightly from doctor to doctor, this is the basic procedure of the Contour Thread Face Lift.
Lift underlying face muscles at home without surgery.....Click here
Results/Reivews
Intially, there will some swelling, bruising and tightness in the treated areas – which should subside in a day or so.
Rest is required. It's important not to move the face or talk for at least the first 24 hours or so.
After that you need to take things easy and can resume normal light activities during the next few days.  Also, it may be difficult to move your face for at least 2 weeks.
For some, there are immediate results, but dramatic results can be seen 3-6 months later due to collagen production and a lifting effect around the thread.
Contour Thread Face Lift - Side Effects and Cost
Some risks include allergic reaction to the anesthetic or infection. Sometimes the you can see the thread line or the thread becomes dislodged causing a lopsided or asymmetric look.
The cost of the Contour Lift (for just one area) can range between $400 to $800 per thread.
An average cost for complete lift starts at around $3,500 and can cost up to $7,000 depending on individual circumstances.
Read about personal experiences and comments here:
Some doctors may also charge additional fees for operating room time and anesthesia 
Who Is A Good Candidate for the Contour Thread Face Lift?
General health issues aside - The ideal candidate should have normal skin thickness and a slight looseness or sagging skin tissue in the neck and face area.
A trained physician will be able to determine if your situation is suitable for this type of procedure.
People who are older or have considerable sagging may require a face lift.
Additional Reading
Reduce Under Eye Wrinkles and Bags
Quickly Plump and Hydrate Sagging Skin

Home

›
Non-SurgicalFace Lift
› Contour Thread Face Lift