Copper Peptides - For Biologically Younger Skin
Copper peptides (creams and serums) can have a significant impact on the dermis. This has been proven in published research conducted by leading dermatologists.
Why?

To put it simply:  Peptides help support healthy collagen - which is why they're sometimes used after cosmetic procedures like laser or chemical peels
What does this mean for an aging complexion?
increased moisture
increased firmness
smoother complexion (less damaged cells from scars and sun damage)
more even complexion tone

increase anti-oxidant protection
Sounds great, right? However, the problem is only very small amounts of peptide products can actually penetrate the dermis.
Which is why we look for peptides with smaller particles and higher absorption.
Best Peptide Products?

There aren't many "true" blue peptide creams available. We like:

Peptide Hydrator cream - This patent pending formula contains smaller particles for deeper absorption where it can do the most good - for optimum results.
What are Copper Peptide Creams?

They contain a combination of a copper ion (a trace element found in every cell within the body) and a peptide (a small protein fragment).
Dr. Loren Pickart is credited with discovering a specific Skin Remodeling Peptide Complex called GHK-Cu. This stands for glycyl-l-histidyl-l-lysine:copper (II)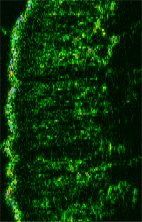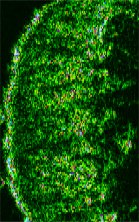 Compare the two ultrasound scans above. The one to the left is a scan of the outer corner of the eye area BEFORE using peptides.
The one on the right is a scan of the same area after peptides. Notice the increase in light green color on the right graph, indicating tighter dermis and increased collagen production.
At one time this type of GHK Cu blue peptide cream called (NEOVA®) was only available through dermatologists and plastic surgeons.
It was given to patients for post-healing after cosmetic procedures such as dermabrasion, chemical peels, or laser resurfacing to help heal faster and reduce scaring.
Other Types Peptides

Sometimes you'll find a combination of peptides with retinols for a really powerful anti-aging punch! However, this powerful combination should not be used by sensitive types.

This is a better option once you've worked up. If you do try it, apply a small amount in small area first to see how your face reacts.

---
Additional Reading


Leave Copper Peptides and Return to Best Anti-Aging Creams
Or go to Wrinkle Free Skin Tips Home page for more anti-aging news.