Eczema Symptoms
Eczema symptoms are annoying at best and can be serious at worst. The most common eczema skin symptom is itchy, flaky skin.
This is a very frustrating skin disorder because there are so many different symptoms of eczema with many different causes.

In the beginning symptoms appear as a common rash and then can progress into thick scaly patches that are discolored, swollen, dry, and hot.
The symptoms of eczema usually appear on the scalp, face, neck, and hands. In children, it can show up in the elbows, scalp, and creases of the arms and back of the knees.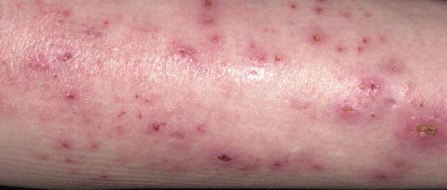 Serious Eczema Skin Symptoms
In more severe cases there may be skin infection with pus filled blisters that ooze. Sometimes a brown, yellow crust forms over the blister.
If you start experiencing these symptoms, you should contact your doctor or dermatologist immediately. This type of condition may require treatments with antibiotics to prevent infection.


The most important thing to reduce the chances of infection is to treat the symptoms before they get worse….especially to reduce the itching which can damage the skin and cause infection.
A few things you can do to help reduce the symptoms of eczema is to try some natural remedies, like:
Make a paste using 1 tsp of camphor oil and 1 tsp of sandalwood oil and apply it to the affected areas.
Make a mask from mashed papaya seeds
Apply vitamin E oil directly on the affected area. This might help stop the itch
Some studies say that taking 30 mg zinc orally can help reduce symptoms
Clean and moisturizer the affected area with gentle herbs and healing oils like borage oil, flax seed oil, and aloe
---
Another option that has worked well for many are homeopathic treatments. Native Remedies offers a whole line of homeopathic skin, nails and hair treatments. 
Click here to visit their product for eczema and more......

Return from Eczema Symptoms to Help For Acne

Return from Eczema SymptomstoWrinkle Free Skin Tips

(Picture courtesy of Hardin Library for the Health Science and Dermnet.com)