Face Tightening Home Treatment Your Results?
I have several questions about face tightening treatments that are supposed to be done at home. How effective are they? Can you prove that anyone has good results?


---
I see a lot of procedures online that promise to tighten and lift the face but I wonder how effective they really are?
My main concern is the folds around my nose and mouth. I'd love to fill and lift that area up naturally.
Thanks.
------------------------------------------------
Editor's Note
:
Hello, thanks for your question regarding face tightening home treatments. To be honest I haven't tried too many of the at-home face tightening home treatments - so I really can't say how effective they really are.
However, after doing much research and testing on my own face, I know that while some creams and serums can help plump up the skin a bit, they cannot lift the underlying structure of the face - like facial muscles - which is important for a firmer looking face.
BUT, facial exercises can help a lot!
When we age our facial muscles atrophy and shrink in size, this leaves excess skin hanging where it once was being supported by those muscles.
Increasing facial muscle size through facial resistance training is one way to help support sagging facial skin.
Look how much tighter my skin looks around the nose, mouth, and jowl line!!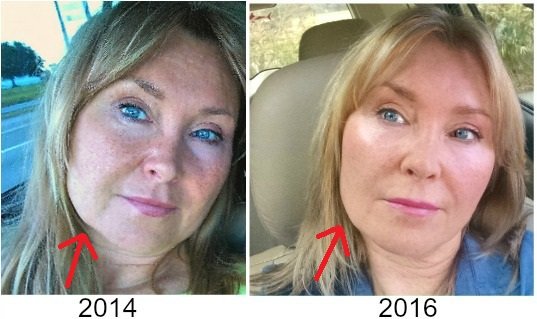 Another area this is evident is on my neck. I firmed up the muscles under my chin, along/under the jaw bone, and on my neck and the results were incredible.
You can see before and after neck pictures here....