Home Dermabrasion Guide
Home dermabrasion kits are a great way to resurface the top layer of your skin. It helps to reduce mild acne, scars, clogged or enlarged pores, age spots, fine lines and dull skin.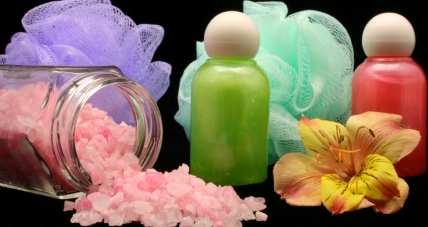 I love any type of dermabrasion whether it's a simple daily exfoliation with baking soda and water, or a professional kit or microdermabrasion session.
Either way, if you're over 40 yrs. old, you should do sometime of "skin buffing" at least twice a week.

Dermabrasion kits are also a good way to supplement a professional microdermabrasion session. Or to improve and get more dramatic results from your Facial Peels.

Do Home Version of Dermabrasion Kits and Products Work?


One of the questions I get asked often is whether a dermabrasion kit for home use is as effective as a professional microdermabrasion session.
Well, I've had professional microdermabrasion and it's great. My skin never looked better, but……..
The results don't last long and it was much too expensive to keep it up. So, I've investigated several home products and kits to find one that worked just as well.
I can tell you right now, the inexpensive drug store brands did nothing special.
The baking soda/sugar scrubs and glycolic/salicylic acid peels provided better, smoother skin.
I didn't want to spend a lot of money but was desperate to find something that was close to a professional microdermabrasion.

What's My Favorite?
By far my favorite personal dermabrasion product is The Skin Eraser!

This home micrdermabrasion scrub helps to exfoliate and deep clean the skin. It even helps to stimulate blood flow and collagen production.


I first read about it in Good Housekeeping magazine and later found out that it was featured in Real Simple, Vogue, Cosmopolitan, InStyle, and Renew.


How Does It Work?
There are actually 2 steps to this dermabrasion routine.
First you use the cream that contains micro fine crystals. You gently massage it onto to clean damp skin in a circulation motion.  This helps to gently dissolve dead skin, flaky skin, unclog pores, and generally polishes your skin.
Second you massage a small amount of the lightening skin serum to help reduce discoloration from acne and sun spots.
I couldn't believe how smooth, clear, and refined my skin looked and felt.
After a few months I felt more confident to go out without a ton of foundation.

This home-dermabrasion skin eraser  may cost a little more than the drug store brands, but compared to professional version, it's definitely worth it.




Return from Home Dermabrasion to Best Anti Aging Cream

Return From Home Dermabrasion To Wrinkle Free Skin Tips Home