Affordable Home Microdermabrasion
Dr. Oz's Pick - Best At Home Microdermabrasion Machine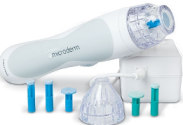 Home microdermabrasion kits are becoming more popular as technology improves – giving us close to professional results at a fraction of the cost.
Money may be tight…..but we still want to look good.


At one time, all that was available for home use were microdermabrasion cloths and gritty exfoliating creams to sort of polish the skin. And these skin abrasion techniques are great to reduce patchy, rough skin.


But none of these came close to a professional microdermabrasion session – the kind you can only get at a clinic or spa.
However, now there is a  Personal Microderm System on the market that actually gives you better results than a regular facial – and is much cheaper than professional sessions.


Microdermabrasion at Home 
How it Works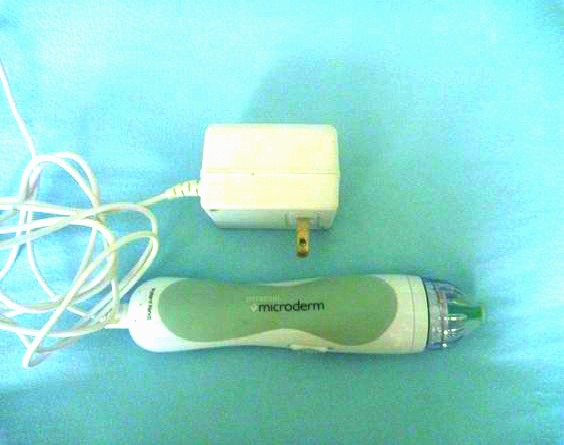 My Personal Microdermabrasion Machine
As you can see from the picture above of my PMD, it's pretty small and portable so I can take it with me when I travel.
This brand of microdermabrasion system uses real aluminum crystal discs to buff or sand blasts away dead skin cells, blotches, sun spots, and dirty pores.
And it uses a light vacuum technology that lifts the skin closer to the disc for better results.


This dual technology (sanding and vacuum lift) not only helps to whisks away old, dead skin cells it also increases blood circulation – so your skin really glows after each use.


Over time, this process will lighten age spots and even out skin tone. Also, by exfoliating this deeply you encourage and speed up the cell renewal process which helps to increase collagen.


I have only used it a short time and you can see from the before and after pictures below, it has helped to lighten a brown spot on my cheek that's been there for almost 10 years!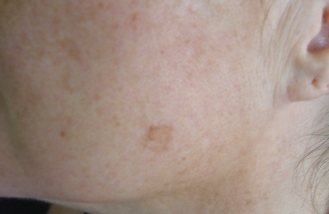 Sun spot darker before using PMD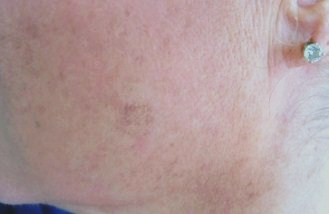 Sun spot lighter after several sessions using my PMD
Notice the pinker look to the skin?
Many times that's because the light vacuum suction helps bring increase circulation providing a temporary rosy glow.


Also, notice that the surrounding skin tone looks smoother?
While I was really concerned with that brown spot, the rest of my skin seem a little smoother in tone and color.


So far, I'm pretty happy with the results and it's only been a few weeks - I'll post more pictures as time goes on - so don't forget to book mark this page.


---
Affordable and Portable
The product is small, portable so it travels well, and is easy to use. Just select the disc size for your skin type and turn it on. It comes with medium, and course aluminum discs.
The course discs are best for deeper exfoliating on tougher skin like on your chest, elbows, and feet.


It also comes with two different disc sizes. The larger disc for face and chest and smaller disc to use around your nose and in between the eye brows.
I was very impressed with how well it cleaned the pores around my nose area.


Just remember one thing…..while the home microdermabrasion kit is milder than the professional ones used at spas, and will take take several sessions before you see significant results -- it's still powerful.


Don't be in a hurry to see results and overuse the product…..which is so easy to do. At first you may not feel much, but a few minutes later...your skin may feel a little warm and flushed.


Home Microdermabrasion kits – Who Should Use Them?
This home microdermabrasion kit is excellent for anyone who wants to soften and revive thick, sun damaged, aging skin. Or reduce the appearance of blotchy skin, age spots, or acne scars.


However, if you're using exfoliating creams like prescription Retin-A or retinols be careful and start slowly and do not use them on the same day you use the microderm machine.


Also, if have any serious skin conditions from active acne, to eczema, rosacea, moles, broken skin….or any other skin ailment, it is best if you check with your doctor first.


Using common sense and starting out gently and slowly will ensure better results.


While the cost may seem pricey to some, at less than $200.00 I can use give myself an at home microdermabrasion facial for the rest of my life........…
However, just one professional microdermabrasion session will cost over $200.00.
So I think its well worth the investment – especially if you're addicted to microdermabrasion – like I am. 

If you've had one before – then you know what I'm talking about. Your skin will never feel as smooth and clean as it does after a microderm facial.


---
Return from Home Microdermabrasion to Non Surgical Face Lift

Return from Home MicrodermabrasionTo Wrinkle Free Skin Tips Home