Homemade Mothers Day Gifts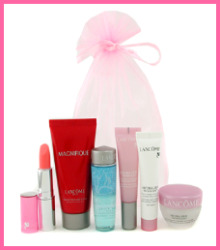 I love the idea of homemade mothers day gifts, it so personal and meaningful. But what do you do if you're not very handy with arts and crafts?  

I'm not very artistic so giving homemade gifts - like making scrapbooks, fancy gift baskets, or painting something - was not really an option for me.

But, I did figure out a way to make mother's day gifts more personalized by adding personal touches and taking in account what mom really wants.


Special Mother's Day Gifts
There is one thing every mother and woman wants – to be pampered.
You can put together a wonderful mother's day basket for under $30.00 with products that will enhance relaxation, comfort, and beauty.


And from now until the 15th of May, you can get a Free bottle of AHA/BHA Complex (a $20.00 value) with any order. Just enter the code MOTAHA.
I would personally like to suggest the Simple Homemade Organic Facial.


This facial is intensive and effective. It helps lighten scars, spots, freckles, blackheads, blotches....for a polished complexion.
This facial only needs to be done a few times a month for great results.


Once you have a couple of great products you can assemble them in a pretty wicker basket.
You find all types of baskets almost anywhere (drugstores, dollar stores, etc..) and just fill it up with her favorite bath and beauty products or surprise her with some new ones.


A BIG favorite is the Facial Massage for Wrinkles DVD - This DVD is one of the best gift ideas for anyone (man or woman) who wants to slow the aging process down.
Creams and serums are great - But aside from plastic surgery nothing can actually lift firm the underlying muscles of the face. These massage exercises also help reduce skin wrinkles too. Plus, the best part........


You'll never have to re-purchase it again! Unlike creams and lotions that have to be replaced when the supply runs out, once you learn how to do these exercises, they're yours forever.
And you now have an anti-aging tool for the rest of your life!!


Another favorite is the Instant Eye Tuck serum for those days when mom (or you) feel you look tired or have puffy eyes from allergies or a cold. 
The eye serum helps you look more wide awake and brighter in a number of ways. It can help to 

hide crinkly under eye skin
smooth and tighten under area

reduce the look of puffy eyes


Plus, it comes in regular size and travel size bottles. The travel size bottle is a great way to try it before buying the full size and is good for traveling because it fits into smallest purse. 

You can put this serum along with the organic facial treatment  into a big basket with some chocolates, a personalized card with a heart felt message and maybe great mothers day quote and your done.


It's personalized, beautiful, very functional, tasty and best of all she'll know you put some thought into this…..
And when it comes to homemade Mothers Day gifts -- isn't that what really counts? 

Additional Reading for Homemade Mothers Day Gifts
Mother's Day Coupon Special - Click here to get a Free $20.00 value.


---
Return From Homemade Mothers Day Gifts To Facial Skin Care Products

Return From Homemade Mothers Day Gifts To Wrinkle Free Skin Tips for more info on sagging face, neck, and other aging skin problems