How do I get rid of crepey skin under my eyes?
by Alicia
(New Jersey)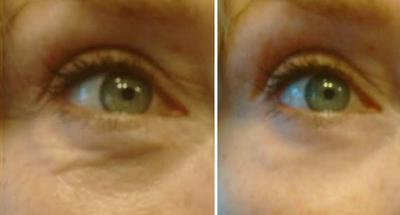 My Crepe Skin Recipe
How can I get rid of crepey skin under my eyes? The skin on my face looks pretty good considering I'm over 50 years old. But, the area directly under my eyes looks thin and papery or as some call it crepey.


---
It usually looks worse in the morning when I first wake up and gets a little better after I add some eye cream. But those lines never seem to ever go away.
Any advice?
Thanks,
Alicia
------------------------------------------
Hi Alicia,
Thanks for your question regarding getting rid of crepey (or crepe) skin under the eyes. I have the perfect solution for you! I too have those tiny crinkly lines under my eyes and creams only seem to make them more noticeable because it makes the under eye area shiny.
I still always use a good under eye moisturizer every morning because I want to keep the skin under my eyes hydrated and soft. But, after the moisturizer has a chance to soak in (like 10-20 minutes) I apply a thin layer of
this eye lift serum.
This serum does several things for my eyes:
1. It reduces the shine and blurs those lines away.

2. It lifts the droopy under eye skin a bit so my eyes look firmer.

3. It provides a light matte look which seems to cover any darkness (i.e.purplish) skin discoloration that I get in the inner corners of my eyes.
Now if you suffer from dark eye circles you might still need to use a concealer on top of your moisturizer. But, make sure you let that soak in too for a 15-20 minutes before applying a thin base of this serum.
You can buy a sample size of this serum if you just want to give it a try. Click here to learn more!
P.S. Shipping is FREE in the United States!
I think you'll love it as much as I do! ❤️ ❤️ ❤️
Take care and please let me know how it works for you. 😄 🌺