Laser Skin Tightening
Have you considered a laser skin tightening procedure to reduce loose, sagging facial skin?
Is this the best  or only option for you?

Well, there are several options for tightening loose skin - so it depends on how severe your situation is and what your budget and schedule allows. 

First let's investigate what's involved in Laser skin rejuvenation and the pros and cons......... 

What is laser skin tightening and how does it work?
Laser skin treatment uses special amplified light waves of carbon dioxide that vaporize the top layers of the skin which removes damaged wrinkled skin.


During the healing process, new healthier skin cells form creating smoother, tighter skin with reduced wrinkles, age spots, and fine lines.


The entire procedure can be in done in a dermatologists office in about two hours or so under a light anesthesia for superficial resurfacing.


Is Laser Resurfacing for Everyone?
Most people get pretty good results, however, not everyone is a good candidate for this procedure. People of color may be at risk of pigmentation changes (i.e. uneven skin tone).
Also, if your prone to infections or have certain medical conditions……this may not be for you. 


In addition, there is a long healing time of 7-15 days or so. This means you will not "look pretty" as the skin will be red, raw, crusty, and peeling. There can also be mild swelling.

And, you won't be able to put on makeup or anything else on your face for a few days. Then when you're ready to apply makeup and go out, you must be very careful to avoid the sun, as you skin will be extra sensitive.


And, finally there is the cost. These type of procedures tend to run about $1,500.00 or more – depending on whether you're getting your whole face done or just certain areas like the eye area (crow's feet).
And if you're getting a deeper resurfacing or just a light superficial treatment for the shallow skin layers.


Skin Tightening Serum and Other Options
If your situation is not that severe or you're not a good candidate for laser skin tightening procedure, there are few over-the-counter, non-surgical methods to improve skin tone and firmness......

Loose Under Eye Skin?
There are plenty of under eye lifting/tightening serums on the market and I can honestly say I've tried hundreds of them since the late 1980s....YES! That long ago!
But, one that I found to be helpful for me is the EES Eye Lift Serum.
I've been using this since 2012 and still love it - despite trying others that have come out since then.

See my before and after picture below..........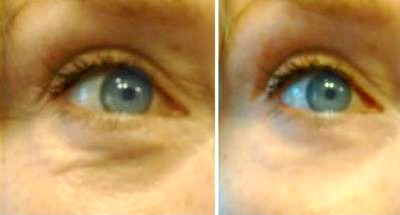 Other options to consider is facial exercising. This is more of a long term treatment -- but very Effective! 

Click on here to see sample exercises.......
Just look at the skin tightening effect facial exercises had on my neck!! These results were accomplished in about 7 weeks!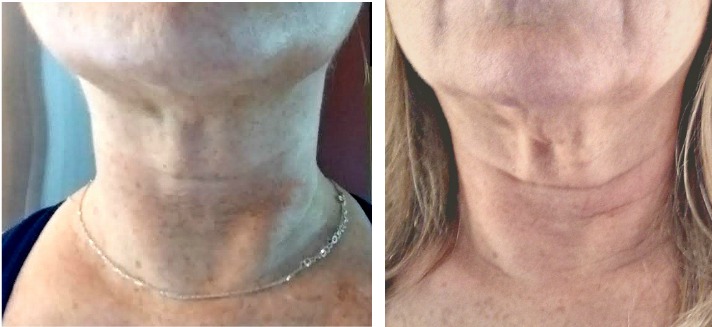 Additional Reading
Renew Intensive Skin Therapy - This intense facial can help reduce discoloration, scars, freckles, and sun damage.

---
Return from Laser Skin Tightening to Non-Surgical Face Lift

Return From Laser Skin Tightening To Wrinkle Free Skin Tips to see videos and more anti-aging skin tips