Red Lip Gloss Recipe
Homemade lip gloss to reduce lip wrinkles
I just love this antioxidant rich red lip gloss recipe.
Many lip gloss recipes call for using fake colorings like Kool-Aid....
But this gloss is made from anti-oxidant rich Cranberries!
This is  a great option if you're looking for an eco-friendly, simple gloss to help reduce lip lines on, above, and below the mouth.
Plus, making your own recipe is great for those with skin sensitive allergies because you control exactly what goes into your homemade lip gloss.


You can make your gloss as shiny, creamy or "balmy" as you want. Whatever fits you mood and desires. ............
Consider using any left over red fruit like:
strawberries
cherries
or any red fruit that is in season
You can even make several different ones and keep them on hand to suit your needs. While it may take some time to make -- it's worth it.


Homemade Red Tinged Lip Gloss Recipe
Here's the recipe for an antioxidant, vitamin rich lip gloss that will not only give you shiny hydrated lips shine but can also help plump up those tiny lines and  slow the aging of your lips.

NOTE: This recipe contains cranberries and honey. Both are super rich in anti-aging antioxidants and high in vitamin C and skin loving minerals.

Homemade  Lip Gloss Recipe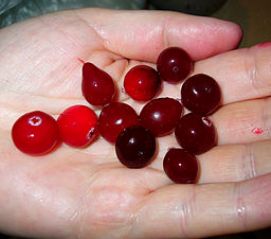 Here is what you'll need:

large microwave safe glass bowl

2 measuring spoons - teaspoon & tablespoon

sieve for straining
small plastic containers to store your gloss or balm

NOTE: You can get the small containers at any Dollar store, drugstore, or Target where they sell small containers and travel size cosmetics from traveling.
The sieve or cheese cloth can be purchased at most supermarkets. I've even used a clean, very thin piece of cotton cloth.
Cranberry Lip Gloss


This one is my favorite. It's loaded with wrinkle preventing antioxidants and does a great job of protecting, hydrating and plumping dry lips – especially during the winter. 
Here's What You'll Need:


10 fresh cranberries,
1 tsp of honey 
1 tbsp. of emu oil
a few drops of almond oil
Mix them all together in microwave safe bowl. Heat ingredients in microwave for about 2 minutes or until it starts to boil.


Then mash up the berries and mix everything tog tether. Let it cool for a few minutes then strain the cranberry pieces by pouring the mixture through the sieve into your storing contains.
Want More?

Some people make large batches at a time. If you choose to do so – just double or triple the recipe. Make sure to keep the large batch in the refrigerator for best results.
This recipe offers excellent protection against aging and wrinkle formation. And honey is an super humectant – which means it helps hold moisture keeping your lips plump and hydrated.


How to Make Lip Balm
If this anti-aging lip gloss recipe is too runny or oily for your taste? 
You can add a small amount of beeswax - about  1 1/2 to 2 teaspoons-  more or less to your liking . ..........


Just melt the wax in a pot or microwave safe dish and mix in with the ingredients listed above.
Let it cool a tiny bit (but don't let it harden) and pour into your storing container along with the other ingredients.
TIP: When making a balm, I like to use little plastic lip gloss pots which are wider and shallower. Since the mixture will be waxy, you'll need to be able to run your fingers across it and smooth over the lips.


Additional Homemade Lip Gloss Info 

Now keep in mind this recipe is not as thick as your standard glosses go...it's more emollient rich to help fill in and smooth out those tiny, crinkly lines that form on our lips as we age.
If you're looking for a standard or a simple homemade gloss or balm recipes - click on this link: Simple Lip Gloss Recipes.  

Word of Caution

Before you begin, just make sure you're not allergic to any of the ingredients found in the recipe below. If you're in doubt, test a small amount on the inside of your wrist.
Apply a small amount to the inside of your wrist and wait 24 hours to see if you develop a reaction or redness and irritation.


Additional Reading
Learn How To Reduce Lip Wrinkles - with these simple tips.


Lip & Face Exercises - While your exercising your lips get a mini-face lift, jowl lift, cheek lift, eye lift, and neck lift too. All for just 15 min. a day. Watch this video.


Face Firming Facial - Intense facials are the secret to beautiful celebrity skin. Find out why and how they work.


---
Return From Lip Gloss Recipe To Perfect Lips

Return From Lip Gloss Recipe To Wrinkle Free Skin Tips for more info on sagging face, neck, and other aging skin problems