Makeup Beauty Tips 
Simple Makeup Beauty Tips.........................................
If you're over 40, you've probably notice that your old makeup routine just doesn't seem to work well anymore.
Some of you might have to simply alter your routine (i.e...more moisturizer and less foundation) and others might have to switch to a more skin friendly makeup line.

Most Important Makeup Beauty Tips 

Most important makeup beauty tip (in my opinion)?
Even skin tone!
Nothing makes a face look smooth and ageless than even skin tone with healthy color. That's what makeup foundations are supposed to do.
But finding one for mature skin can be difficult. Personally, I find most iquid foundations are either too heavy or to greasy - especially those that are designed for mature skin. 
Yes, my skin might be drier these days - but all of that greasy oil makes the foundation feel heavy....like I'm wearing a mask. 
Mineral makeup is the next obvious choice. So I tried to find ones that feel light with medium coverage and a soft focus finish to help blur any imperfections.
My favorite so far is  Mommy Makeup which comes with a fine bristle brush to evenly spread the powdered minerals across my skin and pores providing a porcelain look that  I love.
NOTE: Don't know how to use mineral foundations with concealers? Check out the video below. She makes it so easy to understand....
And, if you suffer from rosacea, acne, red skin spots - a fine mineral makeup foundation powder applied with the right brush is a perfect solution as it helps even out your complexion. 
Note: when applying foundation, don't forget to smooth a thin coat of foundation or concealer on your eyelids.
This not only helps prepare the surface for eyeshadow but helps hide those bluish lines and veins that show through the thin skin around the eyes.
Eye Makeup Tips
Next important makeup tip? Define the eyes!

Eyeliner. I LOVE a well defined eye! But wearing dark eyeliner once you're over a certain age can be hard to pull off.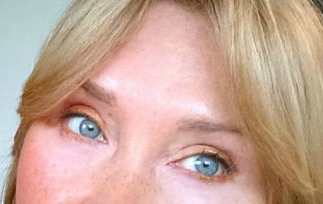 I'd still be wearing my black or brown eyeliner on my top and bottom lashes if I didn't have issues with dark circles or fine lines. 
But I found a makeup cream called Any Wear Cream that can be used as a highlighter, eyeshadow or eyeliner.
It helps to define and brighten my eyes without using black or blue eyeliners.
In this picture I am wearing the Any Wear Cream in  Golden Caramel on my upper and lower lashes. I also have on a little mascara and black eyeliner on the upper eyelid only.
You can apply this cream all across the lid like an eyeshadow too. It's waterproof and long lasting.
Smokey Eye Makeup Tips
I just love a well done smokey eye makeup look!


The first step in achieving this (after applying primer or makeup foundation on top of the eyelid) is to use a light eyeshadow close to the the eyelid, then a darker one on the crease and upper part of the eye.


Next comes eyeliner, and for the smokey eye makeup look, an eyeliner pencil is best because it can be more easily smudged.
Dark colors work best, but any color will do.


Once you have applied the liner -- run your finger or eyeshadow applicator across the line and smudge it in a bit. After that, apply your base again, blending all the colors into each other.......
But make sure to keep the dark color below the crease line. This is what gives that "eye" popping smokey, sexy look.


Make sure that the eyeliner appears to blend in with the other colors.The last makeup beauty tip is remembering finishing touches. Curl lashes and apply several coats of mascara and some lipstick.


Now you are ready to turn heads!
Additional Reading:
Learn How To Prevent Oily Skin 


Retrun from Makeup Beauty Tips to Makeup Reviews

Return to Wrinkle Free Skin Tips for more great wrinkle free skin ideas