Makeup For Sensitive Skin
Are looking for quality makeup for sensitive skin?
If your skin is prone to irritation, eczema, rosacea, or just is just sensitive……then you know how hard it is finding a makeup foundation that won't irritate your skin.
Try the following tips to find the best makeup for your skin type. 

First:
Consider trying  mineral makeup without chemicals and loaded with antioxidants.

According to Dr. Samuel Epstein - a respected professor of occupational and environmental medicine at the University of Illinois - toxic ingredients in our skin care products may adversely affect our health......
Dr. Epstein  is also an expert on toxins and is chairman of the Cancer Prevention Coalition - says that many cosmetics and makeup foundations contain allergens and toxic ingredients that are also known carcinogens.
These chemicals include:
Formaldehyde
Dioxane
Formaldehyde
Nitrosamines
Regardless of whether your skin is sensitive or not, Dr. Epstein maintains that these carcinogenic chemicals should not be present in any cosmetic product you apply on your skin.


Second:
Look for a vitamin or botanical enriched makeup foundation. One that contains vitamin E, Vitamin C, and Vitamin A, along with skin soothing botanicals like ylang, ylang and sandlawood.


Third:

 Get rid of old makeup. Many of us tend to keep makeup way too long and fail to check the expiration date.
Just because the bottle is only half empty does not mean you should still keep using it…..always check the expiration date.
The Best Makeup Foundation For Sensitive Skin
We found an excellent mineral foundation for that was created by a woman with sensitive skin and a busy hectic life.


She created makeup foundation ( and a ton of other fun to use cosmetics) for those suffering from rosacea, acne, psoriasis, acne, even after plastic surgery to cover-up redness and discoloration.


What I love about her makeup is it's dual use and long lasting qualities - all without irritation or damage to my skin.

This makeup actually helps to correct skin problems and reduce inflammation……all the while protecting the skin.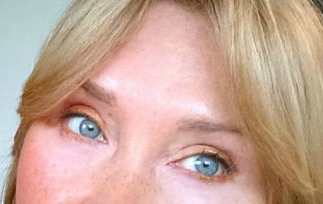 Here I'm using  the Anywhere Cream - which  acts as an eyeshadow, highlighter, eyeliner and cheek highlighter....
The Anywhere Cream last until you wash it off (without any irritation for me).
And it comes in a ton of gorgeous colors ......Here I am using Champagne Gold.


Makeup To The Stars - Makeup For Sensitive Skin
Creator of Mommy Makeup - Debora Rubins is one the famous makeup artists to the stars.....
She shares her tips on finding the best makeup for sensitive skin and other expert tips.

Visit Makeup for Aging Skin to watch her video and get great free makeup tips for healthier looking skin.

Return From Makeup For Sensitive Skin To Makeup Reviews

Return From Makeup For Sensitive Skin To Wrinkle Free Skin Tips