Oily Skin Moisturizer For Men
Find a Good Men's Face Lotion for Oily Skin
Oily Skin Moisturizer for Men?
Sure, why not. Do you think you're too manly to wear a moisturizer?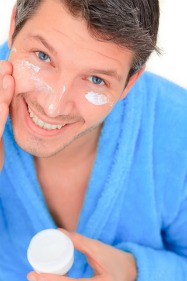 Men are finally realizing that they need to take care of their complexion too.
Just because men don't seem to age as quickly as women do – they still need to be proactive and take charge of their before deep wrinkles set it.


But, having oily skin can make this more of a challenge. Oily types have a harder time keeping their complexion hydrated.


Most lotions usually cause a greasy, shiny look – along with clogged pores or breakouts.


So finding a suitable men's face lotion for oily skin can be a bit of a challenge.


Men, what do you want in a face moisturizer? You want it to be free from:
pore clogging oils
fragrances and perfumes
fancy packaging and labels
You probably want it to contain SPF to protect against the sun's harmful rays, and anti-aging antioxidants and vitamins to help slow the aging process.


And, you want all of this in one easy step. You don't want a ton of separate products -- moisturizers, anti-aging lotions, sunscreen, and you don't need to spend a lot of money for fancy high-end products. Etc.


A simple moisturizer lotion with specific key ingredients will do the job for a lot fuss and money.


Whether you're buying for yourself or your partner, there are dozens of moisturizers for men on the market. So how do you go about finding the right one?


The Benefits of a Men's Face Lotion for Oily Skin
Let's take a step back for a moment. First congratulations on taking a very important step toward truly healthy skin. You skin is the largest organ in your body.


It's the line of first defense against UV rays, pollution, temperature changes, etc. Even the most oily skin can start looking like a lizard, hardly a handsome impression.


Buying a good oily skin moisturizer for men means that you're feeding your skin, nourishing it, healing it and refreshing it.
You can look younger and feel better by following a good skin care routine.
When you start hunting for just the right product, you'll suddenly understand the frustrations women have faced in sorting through skin care products. It's truly a jungle out there.
However, the best moisturizer for men with oily skin is one that you'll actually USE it. Lotion that just sits on a shelf just wastes space and money.
Find something that's no fuss, no muss, with UV protection. You probably want to avoid scented products too. That way you can wear whatever cologne you wish without turning into a flower patch.
Best Moisturizer for Men with Oily Skin
One oily skin moisturizer for men that we feel offers you the best of all worlds is Zenmed oil free moisturizer with SPF 30.


This light weight cream has everything you need to get rid of fine wrinkles, and give your skin a fresh, healthy look again.


For one thing, Zenmed's moisturizer has SPF in it, keeping your skin safe from one of the most aging factors in the environment – UV rays.


This oily skin moisturizer is jam packed with vitamins, and your skin will absorb it very quickly.


No oily stains on your collar to worry about, and no greasy shiny feel! It goes smooth and absorbs quickly…..nobody will notice the moisturizer, but they might notice your hydrated, smooth face.


In addition, the makers of this moisturizer are focused on being green – there are no synthetic fragrances or dies, no parabens and no excessive packaging.


And in terms of value added, you can share this moisturizer with the women in your life who also have oily skin. It's great for everyone with an oily complexion.



Additional Reading
Don't forget about puffy eyes! Men have the same puffy/bags under the eye issues as women do too!

---
Return from Oily Skin Moisturizer for Men to Moisturizer Reviews

Return from Oily Skin Moisturizer for Men to Wrinkle Free Skin Tips