Red Itchy Skin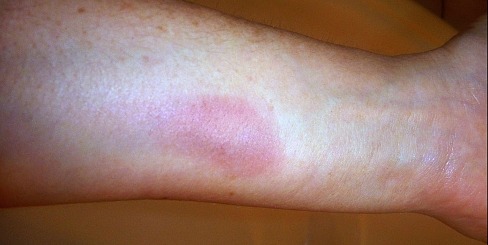 We've all experienced red itchy skin and know how irritating that can be - especially at night when you're trying to sleep. 

If you don't have an anti-itch product on hand and you're desperate for simple cure there are several items in your own home that might offer relief without chemicals.

One in particular, baking soda, has been used for many years successfully. You can apply baking soda as a paste, or if you have itchy skin everywhere, add it to warm bath water and soak.


Lemon juice mixed with a little oatmeal or cornstarch also makes an effective paste for localized itching.


To clean very itchy skin you can use rubbing alcohol or cider vinegar provided the skin isn't over-sensitive. Afterward try applying aloe, Vaseline or a dab of vitamin E oil.


Some people naturally have sensitive skin and find just the slightest irritation causes them to constantly breakout out in a rash or suffer a case of hives.


If this sounds like you, you might benefit from natural herbal or homeopathic treatments like Arnica, Hepar, Rhus Toxicondendron, and Apis Mellifica.


Yes, these ingredients do sound strange, but they are actually simple homeopathic ingredients that have been used for hundreds of years to reduce inflammation, calm itching and stinging, reduce sensitivity, heat, and redness.


CLICK HERE - to read more about homeopathic remedies and how these ingredients work. What many people like most about this treatment, is it's easy to use without any creams or mess.
Just 3 sprays under the tongue and your done!


If you constantly suffer from red itchy skin, rashes, or hives, you might want to investigate this option further.
However, it is important to see a physician to rule out anything more serious. Especially, if you condition gets worse or infected.


Causes of Itchy Skin
Food allergies and contact dermatitis are two of many potential causes of itchy skin.


Have you eaten any new or different food lately?


Did you come in contact with anything unusual on your skin - like a new detergent, body cream, soap, perfume, household or garden chemicals? These are some common causes of itchy skin.


By far the most common cause is simply dry skin. This isn't typically red, but it may be flaking.


Over time it can become inflamed from itching. In this case, try finding a moisturizer that has Vitamin A and E.


This is especially important if you're going through menopause. Itchy skin often develops during menopausal years because the skin isn't holding as much moisture. In effect, your skin is thirsty!
Other Causes of Itchy Skin All Over
Allergic reactions to new soaps, foods, various metals in jewelry, etc.
Bug bites (you can usually detect where you've been bitten and apply an anti-itch cream directly to that region). Also, to check if you have bed bugs, lift your mattress and inspect the box spring. If you see a lot of little red/black specs, you should contact a professional exterminator that has experience with bed bugs.
Health Problems: conditions like Rosacea, chicken pox, and shingles all develop into red itchy skin, sometimes with bumps or flaking.
Medication additions or changes that alter the body's ph balance (caution – do not simply ignore this rash. Call your physician to make sure its only a side effect and not an allergic reaction).
Poison oak/ivy exposure.
Very hot or very cold weather resulting in heat rash or frostbite, respectively.
No matter the cause if you're experiencing the discomfort of itchy skin, you're probably looking for some easy solutions. Let's look at some homemade remedies.
Additional Reading
Need Help With Acne? - That red itchy skin.....Is it a rash, eczema, or even acne? Learn more here.

Intensive Skin Renewal Therapy - Get an intense spa quality renewal facial at home.




Retrun to Tips For Healthy Skin

Return to Wrinkle Free Skin Tips(Home)