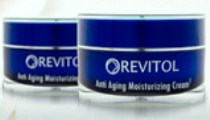 Revitol Reviews
There are plenty of  Revitol reviews online because this company has been around for a long time.
From what I understand the Revitol Anti-Aging Moisturizing cream is loved by women and men...Although most men won't admit they use it. :-)

From a research point of view, I don't see anything unusual in this product or ingredients that really haven't been copied many times over in other popular anti-wrinkle products like Alpha Derma CE.
But most of the Revitol reviews I've read are just glowing. People seem to really like this product and say that it really works for them.
So this had me wondering why and what makes this anti-aging cream different?
Perhaps its' the concentration of the ingredients in Revitol that makes it work better?

Revitol Review – The Science
The company spokes person states that Revitol contains concentrated amounts of clinically proven anti-wrinkle ingredients.
And while other companies contain the same or similar products -- they only offer a "sprinkling" due to the high cost of these ingredients.
So what are these expensive ingredients?

Argireline. This amino acid used in many Botox alternative products and clinical studies show that lifts and tightens the skin while relaxing facial muscles (like Botox) so the skin (especially around the eyes, forehead, and mouth) isn't able to wrinkle due to facial tension.
Acety Hexapeptide-3 - Acts as a gentle Botox relaxing facial muscles that contribute to wrinkle formation.
DMAE – Studies show that DMAE is also a powerful antioxidant and helps to stabilize cell membranes, reinforcing the skin's foundation of collagen. DMAE also helps to keep the cells hydrated and promote skin firmness. As we age, our levels of DMAE fall dramatically. DMAE also helps to heal scars. They claim that DMAE also flushes excess lipofuscin from our skin cells. Lipofuscin is what causes age spots - - like brown spots and white spots on the face and hands. However, it's not proven that this last benefit of DMAE will take place when rub into the skin.

Pentacare NA
- Pentacare NA is an advanced skin tightener. It was originally developed as a substitute for serum albumen – which was previously extracted from cow's blood, but due to mad cow disease, researchers looked for an alternative source. They found a source from plants such as carob and found this extract to be even more effective for skin tightening than serum albumen.

Skin Tightener ST
– Skin Tightener ST is a propriety blend of marine products like kelp and herbal ingredients that firm up skin and reduce wrinkles by enhancing the synthesis of collagne I, III, and fironectin. It also contains. There is some indication that marine like products can help tighten the skin.

Hyaluronic Acid
– Hyaluronic acid is naturally found in the connective tissues of the body and acts as a lubricant and helps maintain the shape and firmness of the skin. Hyaluronic acid is also essential to help maintain moisture and collagen in the skin. However, the studies are not completely clear as to whether or not applying hyaluronic acid onto the skin really works the way it does inside the body.
Revitol Reviews - The Conclusion
While some of their ingredients are backed by clinical studies a few aren't.
However, what really impressed me is the amount of people who love this product and have even written to me asking me to include it on this website.
The most common Revitol review I've heard is that once most people try Revitol, they become customers for life.
Some say that they've seen such a transformation in their skin, that they feel more confident and happy about their appearance!

Also, the company has a free 60 day trial offer.
You get the product for free (minus shipping and handling) keep it and use it for 2 months -- then if you're not happy call them and they won't charge you a dime.
In addition, Revitol offers an unconditional, no questions asked, 90 day money back guarantee on all their products. 

I like that in a company.............Maybe that's why many Revitol reviews are so positive.....



Return from Revitol Reviews to Anti Wrinkle Cream Reviews

Return from Revitol Reviews to Wrinkle Free Skin Tips Home