Looking For A Good Self Tanner Cream?
Celebrity Favorite Sunless Bronzer
A good self tanner is a great way to get beautiful bronzy color without sun damage.
A self tanner or a sunless tanning cream is a great way to improve your skin tone and hide blemishes without makeup.


If you haven't tried a sunless tanning product in while because you had bad results - like strange orange color or streaks -- it's time to try them again!

---
I'm very fair skinned and I freckle - so when it comes to self tanners - I've tried them all!
And found there is a huge difference in quality. Some are horrible.....they streaked, made my skin look dirty, or turned into an odd color. 

Others gave me a beautiful natural golden color.
I've been using and experimenting with self tanners for almost 15 years. My experience started way back in the early 1980's with Copper Tone bronzer cream.


While it turned your skin a bit orange, it was better than nothing at that time.
However, the quality of sunless tanning creams have come a long way since then and we have lots of choices....
So which ones are best?


My Current Favorite Self Tanner
My new favorite sunless tanning cream can be used as a moisturizer and can be applied on the face and body. 
It's not just a tanning cream, it's an anti-aging moisturizing cream that happens to color my skin a beautiful golden bronzy color. Click here to read more......

In addition to providing a nice selection of  shades to choose from - from  light bronze to a deep tan - these creams hydrate and moisturize the skin.  

This is also one of the few products that doesn't contain preservatives and is infused with botanical extracts and moisturizers.
Also, it's great for sensitive skin, and won't clog pores.
Self Tanner - Application Tip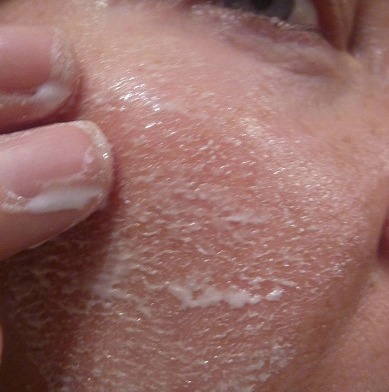 The best time to apply it is after using an exfoliating scrub, like baking soda and sugar.

If you do the facial scrub at night, you can apply a sunless tanning product in the morning. By the time you get to work, your skin will look great.

They take about 2-4 hours to develop and will last 5-10 days depending on your skin and your habits. If you swim often or sweat a lot - you may need to apply more often.


How To Use Fake Tanners For Best Results
Make sure you exfoliate well, this will ensure a smooth even color application.
After washing or exfoliating, rinse and dry your skin well. Do not apply in a damp or steam bathroom or before exercise. Moisture permits the tanner from absorbing well.
Apply a small amount to your hand, whether you're using a cream, mouse or spray. Then rub the tanner between your hands and apply to face like you would a moisturizer.
Make sure to start at the top of your forehead and work all the way down to your chin and neck. Apply to entire face, including eye lids and be sure to get to the edge of your hairline and ears.
If this is first time, apply just one application and see how it develops. I usually, apply at least two applications now that I'm sure how it will look.
Make sure to wash your hands well with soap and water….I can't tell you how many times I've had tanned fingers
I usually wait about ½ hour before applying any make-up or sunscreen. Again, because any moisture or water my inhibit the tanner from being absorbed.
If you haven't tried in awhile, or never tried one before because you thought it might be too complicated or messy - you really should give it a go.


Self tanner creams and sprays offer your complexion the bronze without the bake -- and really improves the way your skin looks.
It can help hide enlarged pores or at least make them less noticeable and even make your face and body look thinner. 


Return from Self Tanner to Glowing Skin Tips

Return from Self Tanner to Wrinkle Free Skin Tips Home