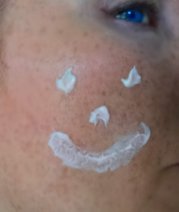 Sunscreen and Acne
As most acne sufferers can tell you that sunscreen and acne does not make for happy skin! It's hard for acne sufferers to find a good sunscreen product. 
Especially one that lasts all day and won't aggravate sensitive irritate skin that's prone to breakouts. 
We all know that sun protection is essential to the prevention of damage to your skin from ultraviolet radiation from the sun. And unfortunately, too many people think that baking in the sun will help clear up their acne. 


By doing so, you'll only wind up with more skin problems…like blotchy, hyperpigmented, wrinkled skin. 

Forget Oily Sunscreens
Most sunscreens or sticky or oily and can only cause more breakouts. But, I found a very simple, clean, powdered sunscreen that you can carry in your pocket or purse and brush on as needed throughout the day.
It's called....
brush on Colorescience Powdered Sunscreen
This simple brush on powder is free from harmful chemicals that can promote skin aging and damage.
It blocks both UVA and UVB and does this through a physical block, like with micronized zinc oxide. It's also lightweight, non-comedogenic.
Also, if you happen to have very oily skin this helps keep that excess oil in check. 
What I like most about this brush on sunscreen is that it works for all skin types. Normal types love the fact that it goes on smoothly and is not sticky like most sunscreen creams can be.
But those with oily skin LOVE that matt finish and the fact that it does not contribute to more oil production.
It seems to be a win-win for all skin types.....
Sunscreen and Acne
Other Thoughts
Regardless of the type of sunscreen you chose, keep in mind that any type of sunscreen can aggravate certain acne.
So before deciding on a brand, make sure it was developed for acne flare-ups. And be careful of those inexpensive drug store brands. 
They may contain one or more of the possible dangerous chemicals as listed the the EWG. Click here to read more...Safe Sunscreens. 


What about waterproof suncreen?
Should you avoid waterproof sun products? There is some debate on this issue as many people have found that with naturally oily skin - some water resistant products – can be cause problems like clogged pores and more breakouts. 
Know the skin you're living in. Acne can happen to anyone at any time in life.
By choosing the right product, that's especially formulated for troubled skin you can have both sunscreen and acne protection that works cooperatively to protect and heal your skin. 

Home

›
Sunscreen Facts
› Sunscreen and Acne