Under Eye Treatments
Best Peptide Cream
Under eye treatments are an important step in not only looking younger but protecting the delicate skin that surrounds our eyes from further damage and aging.


Despite family genetics or how well we take care of ourselves -- eye wrinkles and creases happen to all of us.
The trick is finding effective under eye wrinkle creams that work long term to prevent more damage and even repair existing ones.


Find the Best Under Eye Wrinkle Creams
I happen to be a fan of copper peptides for a variety of reasons - but mostly because of all the research that suggests how well it helps "repair" damaged skin.
After all - isn't a wrinkle just damaged skin?


P.S. - Make sure to scroll down and view the before and after ultrasound pictures of before and after........
For most of us, the main problem with eye wrinkles stems from basically dry, dehydrated, or crinkly skin. A solution to that is to increase collagen and elastin.


This way the skin can hold moisture longer which can go a long way in improving the appearance of your eyes.
Under Eye - Essential Ingredients

You want to seek out products that offer some combination of the following to help strengthen skin, increase collagen, and retain moisture.
Vitamins and antioxidants
Retinol
Alpha-hydroxy Acid
Copper peptides

But the last ingredient - Copper peptides - is especially important.

Here is an ultrasound scan of the outer corner eye area (i.e.crows feet) of a 59-year-old woman.
The one on the left was taken before using GHK-Cu's. The one on the right was taken one month after using GHK-Cu's.
Notice the increase in light green color on the right graph, indicating a tighter skin barrier and increased collagen and elastin production.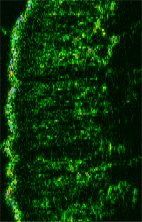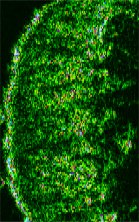 The benefits of copper peptide on the skin was presented and reviewed at the 16th Annual World Congress on Anti-Aging Medicine & Regenerative Biomedical Technologies by Dr. Pickart.


He presented several research papers proving the ability of copper peptide to protect and enhance tissue health and accomplish the following:
Firm the dermis
Reduce fine lines and depth of wrinkles
Provide a nice glow and clarity
Improve skin elasticity
Copper peptides have some pretty impressive scientific research proving their effectiveness in reducing fragility of the delicate skin around the eyes.


However, it's NOT just any copper peptide that posses these abilities, it's a specific Skin Remodeling Peptide Complex called Copper Peptide GHK-Cu.


Studies have demonstrated over and over again the ability of peptides to stimulate wound healing in human and animal models and provide an extraordinary anti-aging effects on human skin.
Dr. Loren Pickart is credited with discovering a specific Skin Remodeling Peptide Complex called GHK-Cu.


Under Eye Treatment - The Best Copper Peptide Products
You should also look for products that have Vitamin E to heal and nourish the skin, Squalane which is an intense moisturizer, and of course Copper Peptide GHK-CU to promote collagen and elastin production to slow wrinkle formation.


It was difficult finding an Anti Wrinkle Eye Cream that contained all of these ingredients.


At one time, this type of copper peptide was only available through plastic surgeons. They would recommend these creams to their post surgical patients. ...
Especially after a laser peel. But luckily now a days - it's available on-line.


Additional Reading
Under Eye Wrinkles - Want more information on peptides and see how they work? Click here to see real before and after pictures.



---
Return to Swollen Baggy Eyes

Return to Wrinkle Free Skin Tips (Home)