Vitamin C for Skin Aging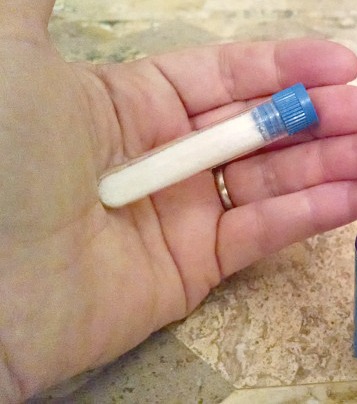 If you're going to use Vitamin C for skin aging - then use the REAL stuff. Make sure it's fresh each time you use it for best results.
We all know the benefits of vitamin C for skin care and for general health. Thousands of studies confirm the potent antioxidant effects of vitamin C face serum and how it can literally reverse skin aging. 
But what about topical vitamin C crystals for skin aging?
There are hundreds of vitamin C ester skin care products on the market........
Do they work?
Thinking about trying one of them?
Bottom Line? Make sure you're using fresh vitamin C creams or serums - otherwise you're just wasting your money.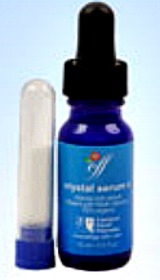 The problem with most vitamin C skin creams, serums, and lotions is their made in bulk and sit (premixed) in a warehouse.
Then they sit on the store shelf for months or even years - losing potency and effectiveness day after day.
Who knows how potent it is by the time you purchase it?
Note: Vitamin C loses its potency, antioxidant properties, and skin rejuvenating benefits when exposed to oxygen for long periods of time.
So most vitamin C creams and serums sitting on the shelves with "added" vitamin C are pretty much useless.

AND, if they've been on the shelf long enough they can even become pro-oxidants causing more long term damage and free radicals. 

If you want to reap the benefits of fresh, potent vitamin C serum - mixed up right before you use it!
That is why I use this L Ascorbic Acid Vitamin C powder and serum.
You receive a glass vial of fresh dry organic L Ascorbic acid powder. (that's what's in the glass vial in the picture above.)
Then when when you're ready to use it, you add the vitamin C crystals to the hydrating serum cocktail of nutrients and emollients.
Shake well and use the pipette to put a few drops into your hand and massage well all over the face, neck, chest.
The results? You have a soothing, hydrating, vitamin C serum that is fresh and potent to give you clearer, even toned complexion.
L-Ascorbic Acid - Pure Vitamin C for Healthy Skin
As a health advisor for over 25 years, finding a good quality vitamin C serum that really worked was frustrating.
If formulated properly, a good Vitamin C serum is one the best super powerful anti-aging skin vitamins. 
Not only does it help correct dried, molted, wrinkled skin………..but also has tremendous skin lightening properties because it decreases the development of melanin. Melanin is responsible dark pigmentation of human skin.
So, if you can use pure, undiluted, fresh organic vitamin C crystals – you can even out skin tone, clarify your complexion, lighten up dark skin spots and blemishes associated with aging and reduce fine lines and wrinkles. 
And, L Ascorbic Acid can do all of this without naturally without harsh and questionable chemicals found in many skin lightening ingredients - chemicals like hydroquinone and mercury.
These ingredients are getting banned in many countries in because of safety concerns.  
Organic Vitamin C
I'm very excited to share this information with everyone out there – like me – suffering from freckles, sun spots, brown spots, hyper-pigmentation, and age spots.
I have found a very highly concentrated vitamin C serum that's organic and natural. 
So What makes this Vitamin C serum different from all the rest on the market? 
In addition to being able to mix it fresh using it. With each application you're massaging pure 16% L ascorbic Acid vitamin C solutionthat is in a vitamin rich base (including vitamin B5, B3, Vitamin A, DMAE, Rosehips, and more…
Pure vitamin C, L Ascorbic Acid can help lighten and smooth out skin tone - giving you a smoother more luminous complexion.
You won't find this 100% natural, organic, L Ascorbic Acid crystals in your local drugstore or department store.
It's only sold online through Carolyn's Facial Fitness.
And, if you use this serum along with facial exercises – you double your skin rejuvenating benefits. Many people have reported significant results in about few weeks!
Vitamin C Crystals - How To Use?
Each day (using it twice a day brings about faster, optimal results) add a small amount of L Ascorbic Acid vitamin C crystals to the vitamin rich base serum and shake up well. 
Once the vitamin C crystals have dissolved, you squeeze a small amount of serum and massage it onto your face, neck, top of your hands, and chest area.
Many people neglect the top of their hands and chest area – these sensitive areas often develop age spots quickly.
This very concentrated serum is perfect for all skin types – acne prone skin, oily skin, dry skin, and especially papery thin, wrinkled skin.
It's gentle, scent-free, kosher, and has a perfect pH balance of 4.5 – 5.5. 
This organic vitamin C crystal serum is so fresh, that it's only good for about 18 months and should be kept in dark place where it's not too hot (like in the bathroom or kitchen). 
In addition, they come in heavy, dark blue glass bottles, so the vitamin C crystals do not oxidize.
This is why your results - after a few weeks of using vitamin C for skin health - are absolutely Incredible!
Additional Reading Vitamin C
for Skin Health
Face Exercise – Follow up with face exercises to go beyond just having better skin. What can 15 minutes do for your face in a few weeks?
Get higher cheek bones
firmer jawline
younger looking eyes
tighten hanging nasal/labial fold lines around the nose/mouth area
reduce bags and dark under eye circles
Keep up with new tips on vitamin C for skin aging, face exercises and everything that's new on Carolyn's Face Exercise Blog. 
Home

›
Skin Vitamins
› Vitamin C Crystals for Skin Aging