Accutane Acne Treatment
What are the Risks?

If you're using Accutane for acne treatment and are a woman of childbearing age, here are some facts you be should be aware of:

Reportedly, there are many side effects associated with Accutane ranging from depression to strokes and seizures, to name a few. 
But, the scariest side effect includes birth defects - which reportedly can happen even when Accutane dosing is low.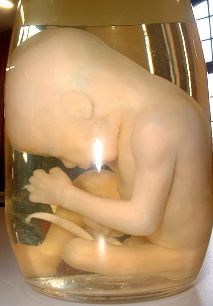 In addition, the defects can be caused in the very early stage (within weeks) of conception - when a woman may not even realize she's pregnant. 

So what type of defects have been reported?
Well various organizations like the March of Dimes suggests that Accutane babies can suffer a variety of birth defects ranging from deformities to mental retardation.


It's pretty sad considering that many have reported fantastic results and the clearest complexion they've ever had.
Even those with cystic acne saw results and experienced a much clearer complexion.
What About Dosing?

It's clear to see this acne medication can be pretty dangerous if used while a woman is pregnant.
But the problem is, there is no guarantee of safety, even when dosing is very low.
Nobody knows why some suffer birth defects and others don't. There are just too many unknowns to take any chances.


Many women were prescribed this drug without knowing they were pregnant. As a result, they either miscarried or aborted. 
The babies that lived suffered some very serious consequence ranging from deformities to retardation.
And, these deformities often happened early in the pregnancy - way before many women even knew they were carrying.
This is why doctors recommend a pregnancy test at least 30 days before starting this type of acne treatment. 
---
Documented reports show that even short term exposure to Accutane can result in a variety of abnormalities including external abnormalities such as:
facial dysmorphia
skull abnormality
ear abnormalities – like absent or unusually smalls
eye abnormalities

And internal abnormalities include:
central nervous system abnormalities – like cranial nerve deficit
cerebral abnormalities
cardiovascular abnormalities
thymus gland abnormalities
parathyroid hormone deficiency
unusually smaller brain and head
larger than usual fluid areas of the brain (called Hydrocephaly)
mental abnormalities and low IQ scores

Pretty scary stuff, huh? 

---
This is why the company who manufactures Accutane suggested that physicians perform a serum pregnancy test prior to dispensing this acne drug.

Birth Defects – What Can You Do?
While this medication is no longer on the market in the United States, it can be purchased on-line from other countries and shipped to the U.S....which is illegal.
However, other types of isotretinoin drugs can be purchased here in the states.


So, if you plan on taking these drugs, make sure to taking a pregnancy test prior to - and very important - make sure to practice a pregnancy prevention program and fully understand all of the risks involved with this medication.
Also, if you should become pregnant while taking this medication – contact your doctor immediately.


Continue reading  side-effects on the Next Page ---->

Additional Reading
Intense Facial Therapy
---