Cosmetic Surgery Facelift and Alternatives
Cosmetic surgery facelift - also called Rhytidectomy - is the fastest way to help remove the signs of aging of the face and neck.


Are you starting to show your age? Got bags under the eyes, sagging jowls, droopy chin?


Well, a mini or full face lift can specifically targets sagging jowls, fatty deposits and double chins. It can also helps to lift and tighten eyelids and drooping eyebrows/foreheads. 


Unfortunately, in this day and age, we put so much emphasis on looking young and beautiful. This has made cosmetic and non-surgical procedures so popular.

Mini Facelift Surgery - What to Expect:
If you're unhappy with those sagging muscles and skin, you have lots of options these days. Of course, the most fastest and dramatic results are obtained with a face lift.


However, you should be aware that any facelift surgery will not change your life, or make you popular, and it certainly won't stop the signs of aging from returning eventually.


So it's a good idea to consult with a reputable facelift surgeon and detail out both your expectations and questions.


What Are The Risks:
As with any surgery there are risks that should factor into your decision making process. Facelifts can cause visible scars, infections, hair loss, nerve damage, skin loss, swelling and pain.


If done poorly a person may find their face un-symmetrical, meaning corrective surgery may be necessary, and at quite a cost.


Costs:
Speaking of cost, you may be wondering what a cosmetic facelift surgery runs. The combination of a surgeon's fees, facility fee, and anesthesia fee costs between $5,000 - $16,000 depending on the extent of the procedure.


This is why many people combine multiple surgical procedures (like a nose job) with a facelift - so that the anesthesia fee and site fee are only paid once.


You can also consider less invasive procedures to improve your appearance like a Lifesyle Lift or something similar to it. These types of lifts is a fairly quick and can be done under local anesthesia and performed in a few hours or less.


Some procedures use thin plastic like threads that are threaded through the lower half of the face/muscle and anchored in each corner of the jowls.


This thread pulls sagging skin and muscle upward and tightens it. Most people are awake during the procedure and are sitting upright. Most recover in a few days and are ready to go back to work.


For some younger folks, a simple liposuction of the lower jowl/jaw area can make a significant improvement in their appearance.


That's because a droopy jowl/chin/neck is one of the first signs of aging and - for the right candidate - removing some fat from that area provides a mini lift.


Face Lift Without Surgery - Safer and Less Expensive Options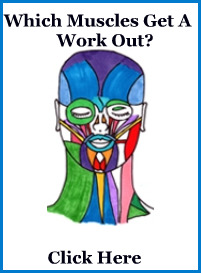 If you're interested in an alternative to face lifts, then there's good news. You can have a facelift without surgery by performing face exercises.


Your face is like any other part of your body. It needs a workout to stay toned and healthy.
Many people who start utilizing facial exercise as part of their wellness routine find that their appearance substantively improves within six months. No need for cutting or injections, just a little time and diligence.


Facial exercises are a completely natural approach to a younger face and these exercises help improve the amount of oxygen and nutrients you skin cells receive.


Over time face exercise improve your complexion, skin color, and skin moisture. It also irons away wrinkles, leaving a younger looking you.


And, recent studies show exercising the face helps improve bone structure and atrophy. This atrophy can also contribute to an aged look. This is very exciting information.


Click here face lift exercise and facial bone aging to see before and after pictures and learn more about this study from the Medical Journal of Plastic and Reconstructive Surgery.


So, face exercises may be a good alternative.

It's easy to do, no where near as costly, and much safer than conventional cosmetic surgery facelift techniques.
Click here to sample some facial exercises for FREE.




Return to Cosmetic Facelift Surgery

Return to Wrinkle Free Skin Tips (Home)


(photo courtesy of Dr. Schwatz - http://www.drmichaelschwartz.com/)