Cost of Microdermabrasion
Home Microdermabrasion Machine for Less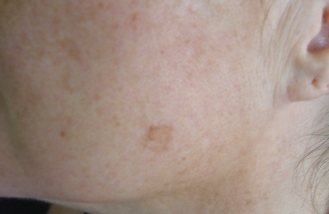 The cost of microdermabrasion is worth it if you get the results you want!

I wanted to get rid of the big old ugly brown spot on my cheek!!!! See my final results at the bottom!
But the cost of professional microdermabrasion varies depending on several factors like: 

Where you live – city and state
Where you get your treatment (spa, beauty salon, or dermatologist office)
How many treatments you need based on your skin needs. For example are you interested in dermabrasion for anti-aging treatments or treatment for acne scars, age spots, and other imperfections?

Microdermabrasion Prices

Here are some average prices broken down based on the type and intensity of treatment.

Dermabrasion Home Machine - A good quality home dermabrasion machine usually cost less than $200.00. Technology has come a long way and there are some pretty effective ones on the market.
The best ones should contain real aluminum crystal discs and a vacuum technology. 

Total Cost for Complete Treatment - initially will cost you $179.00 for the machine - which you only need to purchase once.
And then about 4 times a year you need to replace the crystal discs which run about $14.99.
Professional Salon and Spa Microdermabrasion - The cost of a single dermabrasion treatment can run between $100 - $200 per session. Most skin care specialists suggests 10 treatments for best results.
Often times they offer package deals – like buy 10 treatments and receive a 15% discount. So make sure you ask about discounts for multiple treatments.
Total cost for Complete Treatment can run between $1,000 - $2,000.
Medical Microdermabrasion - This type of treatment usually offers a deeper peel and is often used for serious skin conditions like deep pitted scars.
The cost of this type of treatment can run from $100 - $300 for one session. And, this does not include the initial consultation /office visit.
Total cost for Complete Treatment can run between $1,000 - $3,000.
But, one thing is for sure - getting regular treatments does wonderful things to your complexion.


However, the problem is individual treatments are expensive and usually several treatments are necessary to obtain optimum benefits anti-aging benefits.


Oh, but don't you just love the results? I was fortunate enough to have a series of treatments at a discounted price because the esthetician was just starting her new business and was looking for clients.


And I loved the results. I only wish I could have afforded a full year worth of treatments. 

Microdermabrasion Machine – Quality
The cost of microdermabrasion professional treatments also vary depending on the quality and type of microdermabrasion machine used.


The type of machines used in dermatology and plastic surgeon offices are usually most effective and offer greater results faster. This will influence the price of the treatment.


And, while the home microdermabrasion machine is the least expensive, the results are less dramatic compared to professional medical treatments.


But that does not mean that the home version is not a good choice for those on a budget interested in home anti –aging skin rejuvenation.


The machine I tested works well and provided some pretty good benefits in the short time.
Click here to see my microdermabrasion facial before and after pictures.


---
Return to Non Surgical Face Lift

Return to Wrinkle Free Skin Tips