Natural Eye Makeup Tips
for Puffy Eyes

Got swollen puffy eyes? Try these eye makeup tips to help minimize that tired look.
These makeup ideas are not about "how to hide puffiness" (that can be found here….How To Hide Under Eye Bags)……..
But rather to draw attention away from under eye bags and upward.
They're designed to open up the eye area and your face – for brighter, more wide awake look.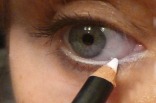 White Liner

- Use a white liner in the under inner corners of the lower lids. Start at the inner part and draw it out to middle of the lower lids and finish the corners with a darker color. Some find an off-white color better. Depends on your skin tone. Those who are very pale can get away with the white liner. I find the off-white or eggshell color less noticeable and easier to work with.
Concealer

- Put a tiny dot of a bright (not white) concealer on the inner corner and on the very top middle of the upper lid...as close to the lash line as possible.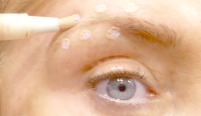 Highlight the Brows

– Use the same concealer mentioned above and dot the upper and underside of the brows. Then pat/smooth gently to blend in. This will give the illusion of a raised, more wide awake look. This really works well!
Other Natural Makeup Tips to Try:
Eye Shadow

– Apply a neutral/darker shadow on upper lids and especially in the crease……I like a light brown. This will not only make you more awake, but will hide any puffiness you might have under the brow area.

Lash Up

– Give your upper lashes a quick crimp with a lash curler. This will make those tired puffy peppers look more wide awake. Then coat with mascara…… TIP: Dust a little face powder on your lashes before applying mascara. This will make your lashes look longer and thicker. Trust me…..it really works.

No Black Liners

- If you normally wear black liner - then only use it on the upper lids.
Finally – Keep the rest of your makeup toned down……especially blush. I find that too much blush seems to exaggerate under eye puffiness. If you need some color, try some bright colored lipstick instead.
---
Leave Eye Makeup Tips and return to Bags Under Eyes
Or go to Home page for more great ideas on looking younger....