Great Solutions for Reducing Bags Under The Eyes
Do you want to know how to reduce those nagging bags under your eyes and look brighter and more wide-awake?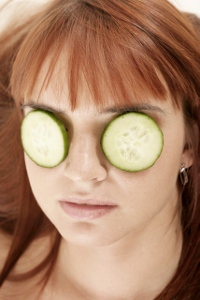 Then keep reading...
We'll cover some quick homemade and over-the-counter solutions to brighten the under eye area.
This problem can affect young and old alike.
I know first hand as I have suffered from this problem since high school so it's not just an age issue.
Home Remedies 
For Puffy Under Eye Bags
Cold Compress – Place a cold wash cloth on your eyes, or even cold spoons. They fit perfectly and really help reduce under puffiness. Another great choice is an mask. They have silicon like gel inside and are kept either in the freezer or refrigerator. Keep a teaspoon or a mask in the refrigerator so it's always ready.
Sliced cucumbers - Keep a few slices in a zip lock bag and keep them in the freezer. In the morning, just pull a few slices out when you need them. This feels Wonderful.
Cold tea bags - While it's a bit messy it does work because the caffeine helps constrict the blood vessels and the tea acts as a mild astringent. The problem is it can dry skin a little too much. If you're over 35 yrs old, this may be too drying.
Reduce salt - This is hard for salt lovers! Try to balance it out with increased potassium. Either take a mineral supplement that has potassium in it or try to eat potassium rich foods like bananas, apricots, avocados, cantaloupe.
Elevate your head when sleeping - Many people have under puffiness when they first wake-up. Lying in a horizontal position for a few hours can cause fluid build-up around the eyes, but this usually goes away once the person is up and around for a while.
---
Looking for a Quick Temporary Fix? Try these two quick tricks:

---
Other Ideas for Brighter Eyes
Don't Under Estimate These Tricks.
Drops - When your eyes are cloudy or red, you'll look even more tired. Place a drop or two of Visine to make them whiter.
Reduce Shine and Hydrate - Use a moisturizer or primer with a matte finish to hid imperfections. I use a creamy dermal filler under the whole area. It not only hydrates, but adds light reflective particles with a comfortable matte finish.
Light Massage - Gently tap your fingers...starting from the outer corner - moving under the area and toward the inner corner and around again.
Reduce Inflammation - Try an Eyeliss an anti-inflammatory lipopeptide gel to help decongest and reduce under puffiness. Use this type of gel during your massage and make sure to apply directly to under eye bags.
Consider going further by doing  Under Eye Exercises too!
Additional Reading for
Bags Under Eyes
Eyeliss Reviews- See Eyeliss before and after pictures.


Bags Under the Eyes