My Eyeliss Review
Most Eyeliss reviews I've read state that products containing the triple peptide combo (called Eyeliss).
This ingredient is supposed to help with puffiness, bags, or thin and crinkly skin under and around the eyes.
Well here is my take on it...
I purchased an eye serum called Dermagist that contains eyeliss, stem cells, matrxyl, and haloxyl.
Their website states that this eye serum is supposed to help reduce puffiness around the fat pockets above and below the eyes.
I started from the top of the outer side of my upper cheek/under eye area and moved my fingers in a tapping motion counter clockwise heading inward toward my nose.
Then I followed up and around the upper eyelid finishing off where I started - at the top of  my outer cheek.
Sadly, about an hour or so later I didn't  notice a difference at all. 

I Tried It Again
So the next morning I tried it again, but this time it was cold because the website said it might work better if it's cold.
I did the same massage, tapping motion as the day before, but this time the serum was cold and felt really good.
My results: The eye area look shinny or greasy, but not much difference to the crinkly lines under my eyes.
2 Month Review
Well, since I purchased a whole bottle and it was too late to return it for a refund - I decided to continue to use this serum just to see if there would be any long term improvements. 

I kept it in the refrigerator the whole time so it was always cool when it was applied.
While the results weren't  dramatic at all. In fact, I really didn't notice any change at all.
Research Reviews on Eyeliss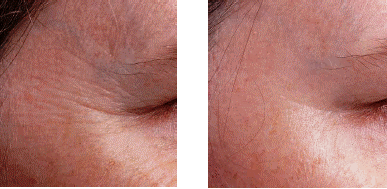 Eyeliss has been studied pretty closely. The studies claimed that, some 70 percent saw at least a fifty percent reduction in dark circles under the eye. 

Well, maybe I didn't use it long enough?

The study said it takes about 5 months of regular treatment for that type of reduction, although a fair number of folks (over 60% saw improvements earlier than that). 

The most negative comments were from women who used a creamy eye products - as opposed to a gel - and found that the greasy base sometimes made the eyes puff up even more.
So, it's best to choose gels and serums that hydrate instead.

My Favorite Eye Serum?
I'll always be searching for the perfect eye serum to lift under eye skin and help reduce puffiness and the look of those tiny crepey lines under the eyes.
In 2012 I came across an eye serum that provides instant results to the smoothing out the under eye area.
I thought what the heck - I might as well give it a try. Like my mother always said "you never how it will work, if you don't try it." So I did and I love it.
The Instant Eye Serum Lift works the best for my skin type and situation. Watch this before and after video!
There are a lot of similar products on the market - but what I like about this one is that it doesn't dry the skin and it not as tight or gluey like the others were.
What have you tried for your puffy wrinkly under eye skin? Do agree with the Eyeliss review? Have you tried it before?
Thoughts, Comments? Got a favorite eye cream? Please feel free to drop me a line.

Home

›
Homemade Facial Cleanser
› Eyeliss Review
Additional Reading