Homemade Facial
Cleanser Recipes
I love homemade facial cleansers and scrubs. It's fun trying different recipes to see which ones work well.
While using a store bought cleanser is a fine - it's nice to use a natural cleanser once or twice a month....

Especially ones that contain natural fruit acids for a really deep cleaning.


Home cleansers are also a great option if your skin is very sensitive - because you're in control of the ingredients.
So let's get started and mix up some natural scrubs and cleansers...
One of the reasons homemade cleansers are helpful for a beautiful complexion is that many foods and fruits found in your kitchen contain alpha hydroxy acids (AHA).


AHAs are found in a number of simple foods like milk, sugar, lemon juice, pineapple, vinegar, and tomatoes…to name a few.


What makes AHAs so special? Well, they help to gently dissolve the "glue" that holds dead cells together - making it easier to exfoliate them revealing clearer, cleaner skin and pores.
And this also allows anti-aging creams and facial moisturizers to penetrate better...for better results.


It is reported that one of Cleopatra's natural beauty secrets involved the use an AHA homemade facial mask and baths made of milk.


An AHA type homemade facial cleanser is also helpful for oil complexion because it helps soften and clear blackheads.

Dry Complexion
This homemade cleanser for dry skin is really easy to make.


Mx 2-3 tablespoons of whole milk (this facial cleanser works best with full fat milk) with 1 tablespoon of sugar into a paste. Scrub the whole face and don't forget the neck area, then rinse well.
Don't forget to apply a moisturizer right after cleansing and while your face is still slightly damp.
A really healthy one to consider a vitamin enriched moisturizer that contains skin healing Argan Oil, Borage Oil, and other nutrients to sooth and hydrate.
Oily Complexion
Mix 2 tablespoons of baking soda with either lemon juice or tomato juice. Add enough juice to make a thick paste and massage the face and neck area. Massage gently and avoid the eyes.
Make sure to rinse very well in cool water and apply a good oil reducing moisturzer. While too much oil may be your problem, it is still important to keep your face properly hydrated.

Normal Complexion
With a normal complexion you can pretty much use any type of AHA facial or cleanser. All you need to do is add some type of homemade abrasive ingredient such as crushed almonds, oatmeal, sugar, or baking soda. Good sources of AHAs include:
Milk, orange juice, lemon juice, cucumber juice, pineapple juice, vinegar, and yogurt. 
You can also just use water and sugar – which is my favorite cleanser when traveling. It's hard to make some of these facial cleansers when you're traveling.
Mix these ingredients to form a paste and scrub the face. Make sure to rinse well and follow with a moisturizer.


Tip: Using a wash cloth will give even more exfoliating results.
Special Homemade Facial Cleanser For Acne
This homemade cleanser is great for acne and breakouts because pineapple juice also has anti-inflammatory properties along with enzymes like bromelain which help digest dead protein (dead cells).
Mix 3 tablespoons of pineapple juice along with 1-2 tablespoon of sugar or baking soda – enough to make a paste – and scrub the face and neck.

Then once a week follow-up with a oil absorbing botanical mask. A mask can also be used for an overnight spot treatment for pimple removal.
Note: Test this cleanser in a small area first. Even a homemade face wash for acne prone complexion can cause irritation so be gentle and test first.
More Homemade Facial Cleanser and
Organic Recipes

If you would like more homemade beauty facial recipes from organic facial cleansers to rejuvenating homemade recipes to treat age spots, large pores, wrinkles, and more -- then this book is for you.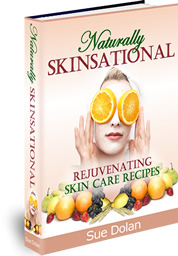 It contains over 150 natural anti-aging skin care secrets and facial recipes that are made fresh with the simple homemade ingredients you have in your kitchen pantry or refrigerator..........Quick, inexpensive, easy.

Click Here For More Recipes!
Additional Reading

Facial Exercises - Try these Free sample exercises for firmer, tighter skin. Raise your cheeks, sagging jowls, and reduce puffy eyes.
Eyeliss Review - Bags, puffy eyes, fine lines? See what technology has to offer us baby boomers.
Flawless Skin - Looking more natural ways to improve your complexion. These 3 simple steps are a wonderful addition to homemade cleanser facial tips.


Hide Wrinkles - Sometimes you just need a little quick help? See before and after pictures. 

Home

›
Glowing Skin Tips
› Homemade Facial Cleanser