Eye Makeup Tricks and TipsFor Smoother Eyelids or Smokey Eyes
I've always wanted to know great eye makeup tricks that can make my eyes look amazing -- like the fashion models I see in magazines and on the Internet.
I especially love a slightly smokey eye makeup look.


Well here are a few makeup beauty tips to get you started.
Preparation:
first, smooth a thin layer of your usual foundation or eye makeup primer on the eyelids.
This helps to minimize skin imperfections and any skin discoloration as well as providing a clean canvas for the rest of the makeup.


If your using powder eye shadow, set the base layer with a dusting of loose face powder (skip this if you will be using cream eye shadow).


Choosing color:
You can coordinate eye shadow color to your hair or eye color or even your outfit. As a rule of thumb however, blondes generally look best in cream and taupe shades.
Brown shades such as chocolate and mocha are best for brunettes, while redheads look very well in pink, peach, copper and even pink and lavender shades. Gray, blue and lavender also compliment gray and white hair.


Choosing technique:
For a daytime look, many women prefer using just one color, often only on the lower eyelid. Cream shadows in light to medium shades work well for this. Beginning with the lightest color first.
Then dust over both the lower and upper eyelid holding a medium eye shadow brush lightly and going from the lash line to slightly above the crease.


Then with a medium shade, dust in the crease line using a small or medium shadow brush.


Go slightly beyond the crease as the brush goes up to the brow bone. This will give a deeper appearance to the eyes and creates contour.


Want More Eye Makeup Tips?
I love these tips because they're easy to follow and try.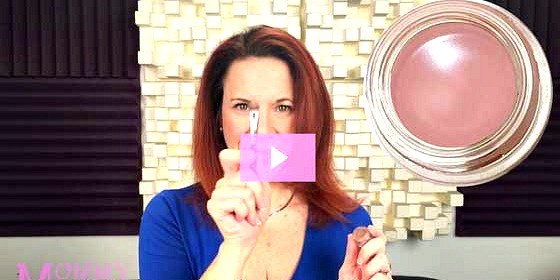 Click on the video about and check out these eye makeup tutorials from Mommy Makeup!
Very helpful, especially for aging eyes.
---
Smokey Eye Makeup Tip - Eye Makeup Tricks
The Everlasting Eye - Videos! - Mommy Makeup
If you are applying makeup for daytime use, you need go no further.
However, for a night out, one of the popular eye makeup tricks is the "smokey eye makeup" look by brushing a deeper tone on the upper lash line using either an eyeliner brush or angled brush.


Blend the colors until there is no distinct line between them. Then with an eye shadow applicator, "smudge" the line and then repeat under the lower lash line.
Remember to keep brushing downward, NOT across as this makes too bold a line.


Emphasize the lash line: To add some definition to your eye shape, apply a light to medium shade over both the lower and upper eyelids.


At the lash line, use an eyeliner brush to apply a darker tone to create a thicker, smudged line.


Once all the eye shadows are blended so that there is no definable line between them.
Then take a large shadow brush and lightly dust the eyes with loose powder to set the makeup. Top it off with mascara and brow pencil if needed.


Depending upon your eye shape, you can tailor your eye makeup to best compliment them. One of the most important eye makeup tricks is purchasing quality mineral makeup, the right colors, and brushes.


Return from Eye Makeup Tricks to Beautiful Eyes

Return from Eye Makeup Tricks to Wrinkle Free Skin Tips for more great skin information and videos