How To Apply Eye Makeup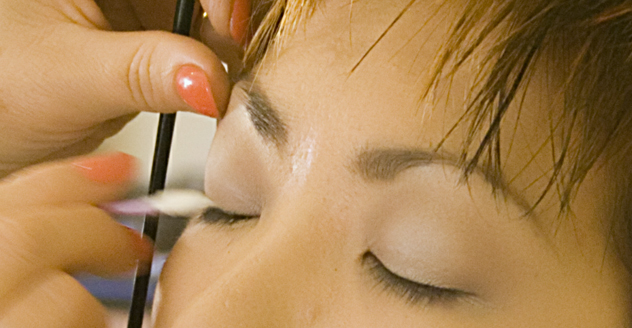 Learning how to apply eye makeup the right way when you're a woman over 40 can help enhance your eyes and even make them pop!
Isn't that what we want?

As we get older, eye makeup tips change.....And so should you..................
I'm not sure why, but I know that I cannot wear eye makeup the same way I did in my 20s and 30s...

The first thing I noticed once I hit my 40s is that the skin around the eyes (and especially eyelids) got very thin causing shows dark shadows - due to blood vessels  - to show through. This always caused me to look a bit bluish or bruised.
A dramatic eye makeup look can make a world of difference in how you look and – more importantly - how you feel.
So I started to experiment with applying a small amount of concealer or foundation in the corners of the eyes and on the eyelids.
This not only helped the eyeshadow to adhere better, but helps smooth out skin tone. 
Eye Makeup Tips Step 1 - Eyeliner


Eyeliner – One of the most defining eye makeup tips is apply an eyeliner – liquid or pencil – which ever you feel more comfortable with. Most women find a pencil eyeliner easier to work with, especially if you're a beginner.
1 - First, lightly pull the outer corner of your eye with your finger. It's easier to draw a line, when the upper lid is taught. Starting with the inner corner of your eye, draw a light thin line following the lash line - using a black eyeliner pencil.

2 - If it's hard to draw a straight line, try making short dash like strokes across your eye lash line.

3 - For a more dramatic eye makeup tip, try running the pencil across your lower lids too. Start by pulling your lower lid down a bit, and draw a line from the inner lower lid towards the outer part of the eye.

Eye Makeup Tips Step 2 - Eye shadow
1 - If you plan on using eye shadow, this is a good time to apply it…..before applying mascara. Even if you don't like eye shadow, a small amount of brown shadow in the upper eye lid crease can hid puffy eye lids and make your eyes stand out more.

2 - Sweep the shadow across the lid from the lash line up until the eye crease.

Eye Makeup Tips Step 3 - Mascara
1 - The last step is mascara. Applying a small amount of baby powder to the eye lashes will make them stand out more. When using mascara, never pump the wand because this will cause the mascara to dry out and clump up due to excess air in the tube. Instead turn the wand a few times before pulling it out.

2 - Apply the mascara by first running the mascara brush along your lash tips – starting from the inner of the eye – toward the outer eye. Then place the brush at the base of your lashes and wiggle back and forth while brushing upward. Let it dry and apply another coat.

3 - Afterward, you can use an old tooth brush or mascara comb to separate your lashes.
How To Apply Eye Makeup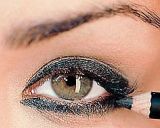 For an even more dramatic look, apply a shimmery shadow to the top portion of the eye - right under the eyebrow and in the inner corners of the eye.


Reapply another layer of eyeliner to the top and bottom eye lids. But this time, apply a thicker line and smudge with a Q-tip for a dramatic smokey eye makeup look.


---
Return From How To Apply Eye Makeup to Makeup Reviews

Return from How To Apply Eye Makeup to Wrinkle Free Skin Tips for more great skin tips