Microdermabrasion Machines - Affordable and Portable
Home microdermabrasion machines are a great way to get an anti-aging skin care facial in your own home, it's is  cheap!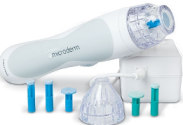 While there is a small initial investment (usually less than $200) the benefits really pan out in the long run.


Especially when you consider that just one professional microdermabrasion session can cost somewhere around two hundred dollars or more.............


This is an affordable alternative and a great way to keep up in-between treatments. And with regular use, the results get better and better. 

Home Microdermabrasion Equipment
The equipment in your doctor's office cost tens of thousands of dollars and each facial treatment can cost you over $200 per session.
And, while professional dermabrasion treatments are more intense and do offer incredible results.......long term use of home microdermabrasion equipment can provide great results too.


And the reviews of the home machines are coming in strong, with women loving their microdermabrasion  wands more than the doctor's machines.


As Dr. Oz states - long term use of home microdermabrasion machines can be a good alternative to Botox injections for wrinkles around the eyes and forehead.
Does home microdermabrasion work? See my Before and After Pictures.

I use the PMD. What I like about this machine is that it comes with several reusable aluminum oxide crystal discs.

The size of the wand and discs allows you to get closer to the areas of the face where you wouldn't normally be able to abrade with the larger crystal machines.
Click here to see the size of these disks and learn how they work to get close to small areas like around the nose to reduce black heads and clogged pores.......

Dermabrasion machines have  been around for a long time.
But, recently, smaller, less expensive microdermabrasion machines have become available for home use. 
And, in my opinion, they are really effective! I love the look of my skin after each treatment.....

These smaller home machines use the same super fine aluminum oxide crystals that professionals use. They help blast away dull, dead skin cells that lie on the surface of the  skin.
Once the dead skin is removed - your skin will be super soft and glowing! 

A microdermabrasion facial treatment can help diminish the look of fine lines and wrinkles, decreases the appearance of acne scars and help even out the skin tone.

Home microdermabrasion treatment should be done at least once a week, for the first six to twelve weeks, for the best results. Depending on which machine you purchase.
Make sure to always  follow the instructions that come with your equipment. 

Remember to keep your home Microdermabrasion equipment scrupulously clean. It does your skin much to lift off the dead skin cells if you are just going to redeposit them on your skin again later.


And always remember to wash your face and dry it very well before treatment.
Microdermabrasion After Treatment
Since microdermabrasion helps clear the skin and eliminate dead skin cells, your skin will be able to absorb creams and serums much better after each treatment.
Take Advantage of that! 

Copper rich skin care creams or serums  help encourage skin cell renewal and collagen production.

What Else to Expect After Treatment?

Your skin will probably be a bit pink  right after your treatment. That's because you've stimulated circulation and brought wonderful nourishing blood to the surface.
This will go away in a few hours, as the blood vessels relax, under the skin's surface.

Also, your skin may be sun sensitive for a few hours after a treatment. So if you're going out be sure to use sunscreen. 
Personally, I try to do my treatments at night before bed. Then I can really slather on the anti-aging creams and let it soak in while I sleep.

Home Microdermabrasion machines are here to stay. It is worth the investment in time and money.
---
Return from Microdermabrasion Machines to Non Surgical Face Lift

Return from Microdermabrasion Machines to Wrinkle Free Skin Tips for more information and videos on beauty & care facial skin tips