Body acne and back acne scars
---




Hi there,

I have had problems with body acne almost all my life. Especially during the hot summer months. i have back acne and scars all over my chest, upper arms and mostly my back. I found a product that finally worked and wanted to share it with you.

It's the body acne derma cleans and i was a difference in about 3 weeks. i started using it about 3 months ago and it is just wonderful. I can now wear tank tops with being embarrassed.

Ok, just wanted to share that with you. I found it here:

body acne wash.

Thanks,
Steve
Join in and write your own page! It's easy to do. How? Simply click here to return to Natural Acne Cures.
Help For Acne and Acne Scar Cure
by Deirdre
(Oz)
Hi all,

I have adult acne and after much trial & error this is finally what has been working for me.

* Cleanse, tone and moisturize with acid containing products(salicylic, glycolic or Beta Hydroxy).

* Exfoliate every second day.

* Use a normal cream around eyes and mouth to prevent wrinkles.

I have found older scars have faded too with this regimen :)

Good luck !

D


Thanks for the great suggestion D. Most people tend to over do their acne facial regime and actually make it worse. A simple 3 step Process works wonders and won't aggravate irritated skin.

Plus, for those who are over 35 years of age....the fruit acids you mention above (glycolic, salicylic and beta hydroxy) all help to smooth out fine lines too.

Thanks again!
Linda, Admin Wrinkle Free Skin Tips
Join in and write your own page! It's easy to do. How? Simply click here to return to Natural Acne Cures.
Removing acne scars and blackheads - Please help!
by Elisa G.
(Tampa, Fl.)
My skin is a mess. I finally out grew my acne and now I have red spots or pock marks all over my face and I still lots of black heads. I don't break out anymore so I don't know what products to use. Should I still be using acne products?

I'm in my 40's and those product seem to dry out my skin. So now I have some wrinkles too. Please help.
-------------
Hi Elisa,

Thanks for your great question. You're not alone, many people who have acne in their teens and 20's now suffer from brown spots, red skin spots, and left over acne scars.

After years of research and trial and error, I have finally found a simple 2 Step treatment.

This is the best acne scar treatment and facial scar treatment that I've seen and it's effective, inexpensive, and can be done in your own home.


1. Exfoliate - Remove dead skin cells, unclog pores and slowly remove the bumps and pits using an exfoliation/peel treatment - like a microdermabrasion complex - a few times a week. This causes the scar to become lighter, thinner, and less noticeable. Plus, exfoliation and peels help build collagen and is great for removing wrinkles too.

2. Lighten – Erase away dark spots, red skin spots, and any other discoloration or spotting left over from acne scars – using lactic acid and glycolic acid - this also makes them less visible and gives the skin a nice even smooth complexion.


Write back to me in a few weeks and let me know how your skin looks -- I'll bet you'll be thrilled with your progress.

Linda, Admin

Join in and write your own page! It's easy to do. How? Simply click here to return to Natural Acne Cures.
Great Acne Scar Cure
by Jessie
(Califorina)
Hi,

I found a acne scar cure that really works but I don't see it mentioned on your site.

It's called Zenmend scar treatment cream and it not only made my acne scars much less visible, but it even out my skin tone too.

I've had acne all my life and as a result spent a lot of time in the sun because it seemed to make the acne a little better. But now that I'm older, I have lots of sun spots and freckles from too much tanning.

Well this cream lighted all the brown spots and scars and made my skin looks more even. I can almost go without any foundation.

You should really tell your customers about it.

Thanks,
Jessie
Click here to read or post comments
Join in and write your own page! It's easy to do. How? Simply click here to return to Natural Acne Cures.
Natural Acne Cures - Acne scar picture - Need acne scar removal tips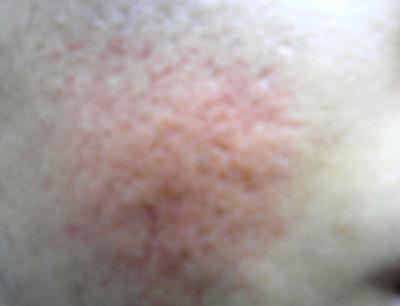 picture of facial scars
Hi,

I was wondering if you had any professional opinion of the scarred skin in the picture included in this post. I have heard of everything from dermabrasion,chemical peels, medical rolling, retinol, copper peptide serums, 302 skincare protein drops, fraxel laser etc. I am thinking of seeing a professional plastic surgeon at this point i feel I'm at a loss. Was wondering what method you see as most favorable... please review the pic and comment. all comments are welcome thanks so much...look forward to hearing back.

Hi,

Thanks for your question and facial scar picture. Yes, all the methods you mentioned can be effective for scars, the problem is everyone is different. It's a matter of finding what is going to work for you the best.

For sure, professional treatments like chemical and laser peels would probably work well, however, there is a large cost involved and down time while you wait to heal. Not to mention the possible side-effects if the peels don't go well - like hyperpigmentation or more scarring.

But, just remember one thing - which ever method you try you'll have to be very careful of the sun. Because all of the treatments for acne scars will make your skin extra sensitive to the sun. So use a sunscreen daily.

You should consider trying the Acne Scar Treatment Kit.

The Acne Scar Treatment Kit contains two products - a Skin Eraser and a Microdermabrasion complex. This helps attack the problem in two ways:

1 – The Skin Eraser helps to lighten the skin, so scar pigmentation is less visible. This helps improve the skin's appearance even before the scars are diminished.

2 - Then the next step is the Microdermabrasion Complex which helps to slough off – very slowly – the upper layers of the skin revealing the fresh new skin underneath.


After one treatment the scars should look a little smoother. After 8 treatments the acne scars should be lighter and thinner. I have received many great reviews from customers who have used this treatment kit – so it's worth giving it a try before going on to laser or chemical peels.


To read more about it click on this link Acne Scar Removal and scroll down to the Acne Scar Treatment Kit by Zenmed link.

In addition, it allows maximum absorption of anti aging creams and scar treatment creams.

Hope this information helps. If you have any more questions, please feel free to contact me here.
Linda, Admin

Click here to read or post comments
Join in and write your own page! It's easy to do. How? Simply click here to return to Natural Acne Cures.