Progesterone Creams For Wrinkles?
"After using progesterone creams my skin seemed less dry and more youthful looking."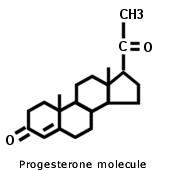 Does progesterone cream offer any skin benefits?


When women think of menopause, they usually think of declining estrogen levels. But the truth is, progesterone is also an important hormone that declines during this time too.


And this small hormone might play a big part in skin aging too. A study published in the British Journal of Dermatology which tested the effects of 2% progesterone cream on aging skin.


The study evaluated the effects of this cream on skin texture, elasticity, hydration, and oil production.


This double-blind randomized study involved 40 pre menopausal and postmenopausal women who applied 2% progesterone cream for 16 weeks.


Clinical data shows a 29% reduction in wrinkle counts and depth in the eye area (crows feet). A 9% decrease in nasal labial wrinkle depth and 23% skin firmness.


Researchers conclude that progesterone is an effective anti-aging cream and can help increase elasticity and firmness in the skin of pre-menopausal and postmenopausal women.


Why Progesterone
It's true that as women age their estrogen levels begin to decline, however, progesterone levels decline too....sometimes to levels much lower than estrogen.....In some women, these levels are close to zero!


Research suggests that this imbalance not only contributes to various skin aging conditions, but may put a woman at risk for various hormonal related cancers.


Healthy progesterone levels are also necessary for proper bone formation which may protect against osteoporosis.


In addition, when progesterone levels are much lower than estrogen levels (this condition is called estrogen dominance) women suffer from a large variety of symptoms including:
Bloating
Breast tenderness
Depression
Fatigue
Endometriosis
Hypoglycemia
Uterine fibroids

To offset these side effects, some women choose to use paraben free natural progesterone creams to help relieve symptoms.
How Do You Choose A Good Cream?

It's important that you know how much your cream contains before purchasing it. To be effective, it should provide at least 20 mg of USP progesterone per ¼ teaspoon serving in order to be effective.

Another study published in the American Journal of Obstetrics and Gynecology also suggested that a stronger cream (up to 30 milligrams) for optimum effects. They stated that many over the counter products only contain up to 5 milligrams of progesterone per ounce.

USP stands for "United States Pharmacopoeia" and is a government recognized standard of purity and strength. It also means that the progesterone is of the highest quality.


What Is Natural Progesterone Cream?

Usually natural progesterone cream is derived from plant fats and oils -- a substance called diosgenin -- which is extracted from wild yams or soybeans and are sold over-the-counter without a prescription.

Here are some quality, over-the-counter natural progesterone creams to consider.....
Many of these creams have been around for awhile and most are paraben free.
A study published in 2004 indicated that parabens might have negative effects on breast tissue health. The study suggested that parabens might be absorbed through the skin and may be to breast cancer. 

Although the results of this 2004 study were not conclusive, it's a good idea to make sure the cream you purchase is paraben free.


NOTE:Please consult a physician if you have any questions about your hormone levels. Or if you have a history of hormonal related cancers.



Return From Progesterone Creams to Estriol

Return From Progesterone Creams to Wrinkle Free Skin Tips Home