Acne Body Wash
Why It's Effective...
A deep cleansing acne body wash is the easiest way to deal with all types of body acne.
While it's not a cure, it can help clear breakouts in hard to reach places......
Whether it's just bumps on your back, pimples on your neck, blackheads on the shoulders, or even butt acne. 

Body acne can be so frustrating because it often happens in places that may be hard to reach and treat.
Indulging a lathering body wash can get  breakouts under control and let the healing begin.
Of course adding a good healing mask on your shoulders, chest, and back of arms can also heal the skin faster.
Just, make sure it's a body mask, not one made for the delicate skin of the face.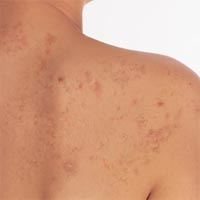 Body Acne Causes
Just like breakouts on the face, there are multiple reasons for back or body acne like excess oil, dirt, bacteria, clogged pores, hormone imbalance.......


Some dermatologists speculate that those prone to acne may produce more of a certain type of oil (sebum) that is thicker, doesn't spread as easily and tends to clogged pores and cause breakouts.


Also, the pores on the body - like the back and shoulders - are much larger and more active than those on the face.


So, the combination of sweat, excess oil, and constant friction from your clothes can irritate the skin and cause pores to clog. Sometimes an infection can develop and spread onto other parts of the body. 

Treatment and Tips
If you suffer from body breakouts, you need to use a specific body wash made for the thicker skin on body. 

TIP: Since there is usually a lot of area to cover when it comes to treating body acne and many places can't easily be reached, consider investing in a natural long handle body brush.
You can use most body brushes wet or dry for therapeutic dry skin brushing.
When used wet, you can use your favorite daily soap and even your acne body wash soap - provided it's not too harsh or doesn't contain irritants such as sulfur or petrochemicals.

While it's important to get the skin clean and reduce excess oil production, dead cells - it's important not to cause more irritation..........................

So don't use a body brush with a harsh, chemical laden soap or cleanser and make sure to test the brush and your favorite cleanser in a small area first to see how you'll react.

As more people come forward seeking an effective body acne wash, more products appear on the shelves.

We like this body acne and mask combo for many reasons. It's simple, non-toxic and reasonably priced.

And, it not only great to treat back/body acne, but helps to smooth, exfoliate, and get rid of those little pimple bumps from shoulders to toes.

This wash forms up nicely so it can really clean those hard to reach areas - like the middle of the back.
Plus, it contains small scrubbing particles that help exfoliate the skin - getting rid of dead skin cells and unclogging the pores.

Also, this treatment is fast as it only takes a few minutes! For best results, the product should be used about 2-3 times a week. 
Finally, while you're treating your body acne and encouraging healing, it might be a good idea to avoid using body creams, greasy suntan lotions, even try to refrain from wearing tight fitting shits and workout t-shirts for a while.

And, try to shower as soon as possible after working-out and sweating and change into clean loose dry clothing.

Other Pages You Might Like