The Clarisonic Cleansing Brush System

Recommended and used by skin care professionals, spas, plastic surgeons, and dermatologists -  the Clarisonic Cleansing Brush is a hit.
Even Oprah Winfrey is a fan.......saying "It's a miracle massage for your face".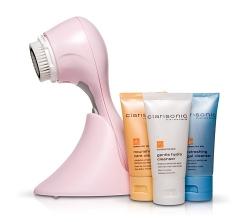 The Clarisonic brush cleanser is a hand held microdermabrasion brush that oscillates 300 times per second.
This frequency helps to gently clean pores - removing more makeup and dirt than cleaning without it.
Clarisonic System Review
Clarisonic Cleansing system is supposed to be the latest, state of the art, advanced technology in skin care……
So I set out to do some investigating of my own and review all the comments, and testimonies.


Guess what? Women love it! Most women couldn't stop raving about it.
A very close friend of mine - who is also an esthetician - first told me about it. She not only uses it in her practice, but owns the system herself.
I must admit when she showed me how it works and feels, I was hooked!!
My skin felt cleaner and much smoother compared to manual cleansing. That's when I set out to do a little investigating of my own.


Pro –
Women and men reported wonderful results regardless if their complexion was too oily or too dry.
This system helped clean and reduced dead cells buildup.

Acne breakouts, large pores, black heads and white heads are reduced and some reported even total elimination most common problems.

Con -
The only negative comment was that it may be too harsh for a few select who have extremely sensitive complexion.  However, my esthetician friend told me that in those cases, the person was not following the directions properly.
Too expensive. That's the other negative comment made of this product. However, all those who have this system say it's totally worth it, lasts a long time.


I'm sold! I've had facials and microdermabrasion treatments and loved them but just couldn't afford to keep them up.
I think Clarisonic Cleansing brush is an all-in-one, microdermabrasion, deep cleanser, professional facial, treatment you can do at home for pennies.
Additional Reading
Facial Massage - Don't underestimate the power of a good facial massage and workout. See these before and after pictures.

Home

›
What Is Microdermabrasion
› Clarisonic Cleansing Brush