What Is Microdermabrasion? 
Microdermabrasion – simply put – is a powerful exfoliation facial.
What does that mean? It means it helps slough off dead skin cells to reveal smoother, healthier (less wrinkled) complexion underneath.
You see, as we age, we're less we're able to shed dead cells – and this can cause all kinds of problems like:
Enlarged or clogged pores
Noticeable wrinkles and lines
Dull, dry, and/or flaky complexion
And, worst of all, having layers and layers of dead cells can make it harder for those expensive anti-aging products to really penetrate deep enough to do their job………..
So you're basically wasting money!
Learn About Different Microdermabrasion Products
There are lots of products (and even homemade remedies) that can exfoliate dead cells…………………
From microdermabrasion machines to various scrubs and cloths. But, the most popular, powerful, and effective methods are the machines.
Professional Machines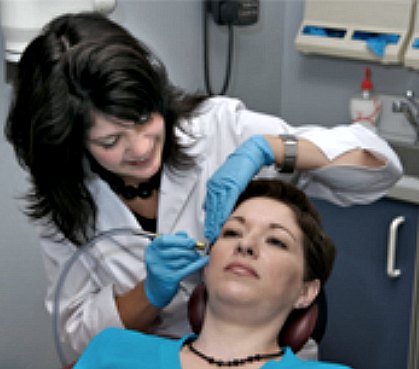 A "true" microdermabrasion facial treatment involves the use of a professional machine that uses either a rotating crystal or diamond head tip (or disc).
The rotating disc helps polish and buff away the top layer of the skin - while the light suction pulls it closer to the disc and vacuums away dead cells.
Both diamond and crystal discs are slightly grainy and (depending on the type and intensity of your treatment) both can leave your face a little red and dry.....
Like a mild wind burn.
Diamond or Crystal Discs?
I believe it's a personal preference. I think both offer beautiful results.
However, those who suffer from allergies claim that crystal residue can get into the mucus membranes and irritate nasal passages.

I've had several professional facials and loved them. Never had a problem with either type.
My only complaint was the expense…………..
Around $160.00 per session was the rate in south Florida at the time I had them done. 
And several treatments are recommended over the course of a year for best results........
Home
Microdermabrasion Machines
So what are microdermabrasion home machine and are they effective?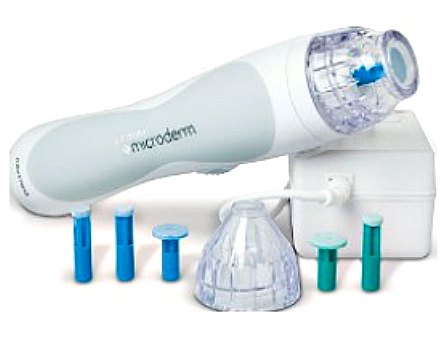 Personal home microderm machines don't go as deep as professional ones – but they are powerful.
Most use either a diamond or crystal disc (again - I don't think that makes a difference).
But, they should have a vaccuum feature to ensure close contact with the skin.
In my experience - the home machines are powerful!
I found out the hard way by leaving the rotating disc in one spot too long and wound up with a little red sore spot. So pay attention to the directions.
Just like professional machines - you need to keep moving the roating disc across the skin and never keep in place too long.

You can learn more about personal home machines here.....

Kits, Scrubs and Cloths
These methods are a nice in-between maintenance treatment and most will see results after just one use – especially if you use one that contains alpha hydroxy acid.
Kits/Facials – This type facial usually involves two steps:
Step one is a grainy scrub to help stimulate cell turn over and eliminate dirt and dead cells
Step two is a polishing serum that helps to eliminate dead cells and clogged pores by dissolving the "glue" that holds them together.
This serum also helps lighten age/ brown spots, hyperpigmentation, discoloration, and freckles too.
Want to learn more? Click here what is a microdermabrasion facial

Scrubs – You can make your own mixing sugar and water, or baking soda and water. Or even add olive oil for dry skin. Click here to learn more about making your own homemade facials and beauty products.
In this catagory you can also include the Clarison Brush. It does a good job to eliminate dead cells and clean the pores.

Cloths – Probably the least powerful are the micro-fiber cloths. Again, you can make your own.
Take a rough wash cloth and add some paste (made with baking soda, sugar, oil combo listed above) and lightly massage all over your face……….this will be just as effective.
So What Can Microdermabrasion
Do For You?
As you can see - there many types of microdermabrasion products.
However, professional or home microdermabrasion machines are the most powerful and effective.
Most people see immediate improvement in their complexion after just one treatment. Especially with the machines.
Over time, pores become smaller, lines become less visible, the complexion looks more hydrated and healthy and sun and age spots are lighter.
---
Home
› What Is Microdermabrasion