Upper Lip Wrinkles
Upper Lip Lines
The Best Creams & Treatments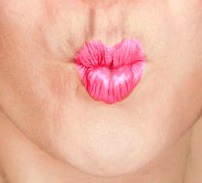 How frustrating are those upper lip wrinkles!
Personally, I think they really give a woman's age away. And the worst part is that you can't hide them with makeup or concealers and they seem almost impossible to reduce.
The other frustrating problem is the lack of solutions for these tiny annoying lines above the lips.
Yes, some cosmetic procedures can temporarily help, but is expensive.
There is also an over-the-counter solution that might help - but takes it takes a long time before you'll see any results.
We'll take a look at both options below....
What I find perplexing is why some women get them and others don't. And why men never get them!!??
In the paragraphs below, we'll offer some solutions that might help. And, you can use these solutions for other areas of the face that show lines or wrinkles.
What Causes Upper Lip Lines
Nobody is really sure why some women develop upper lip lines and others don't.
However, one reason that is mentioned often by dermatologists and cosmetic surgeons is over-exposure to UV radiation and/or smoking and of course....aging.
Some people have even blamed upper lip waxing as a culprit.  They suggest that this treatment pulls on the skin and may increases looseness.
While this has never been proven for sure - if you have upper lip wrinkles - you might want to consider cream or laser hair removal.

A variety of lip wrinkle creams have come on the market in response to consumer demand for healthy beauty products. But what's really going to work best?

Temporary  Solution
Upper Lip Wrinkles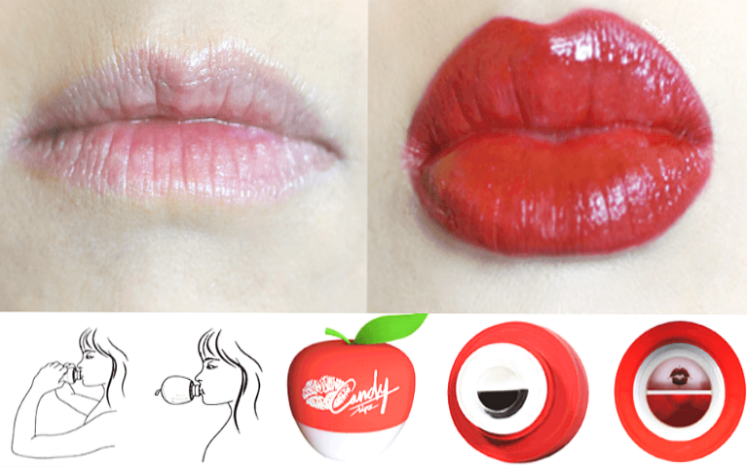 Plumper Lips
A new device has been brought to my attention and it might offer a temporary solution for upper lip wrinkles, sagging mouth and plump up thin or flat lips.
I use it to help plump my  lips and raise the upper lip for a more turned up perky look.  

The results are temporary - but the website says the longer you use it - the longer your lips stay plump. 

Instant Removal of Upper Lip Lines -
Restylane Lip Filler
While some women may have Perfect Lips, the problem area we're talking about are wrinkles above the lip line.
One of the fastest (and temporary) solutions to get rid of those wrinkles and lines are Botox and/or dermal filler injections - like Restylane Silk or Juvederm.
Depending on your situation, your dermatologist or cosmetic doctor can determine which is best or if you'll need a combination of a dermal filler and Botox.


Botox can help prevent the lips from puckering too tightly - thus eliminating the formation of vertical lines.
Of course it's very important to have skilled professional - who has done Botox injections for lip lines - to ensure that you still have proper movement of your mouth. 

Restylane injections (there is a smoother softer filler called Restylane Silk) contain hyaluronic acid which fills and plumps out the lines and wrinkles - so the upper lip area is smooth.
Both Restylane, Restylane Silk and Juvederm work great for the mouth area.

However some people feel that Restylane turns out to be a bit cheaper because it comes one treatment comes in 1cc and Juvederm comes in 0.8cc........
But Juvederm is supposed to last longer. The cost is about $500 per syringe and should last 3-6 months.

You'll have to try each one and see which one works best for you.
A Good Cream for Lip Lines?
If you're looking for an alternative way to reduce the appearance of upper lip wrinkles (and treat other areas of the face like crow's feet) try a potent retinol cream.
Retinol creams can be purchased without a prescription over the counter or online.
While they're not as strong (or irritating) as prescription Retin-A, over time they can help smooth out wrinkles and even prevent new ones from forming.
The only downside is it does take longer to see improvements as opposed to prescription Retin-A. The upside is a reduction in side effects common with Retin-A like redness, flaking, dry skin and irritation.
And, as opposed to injectable fillers - Retinol contains anti-aging ingredients to help improve skin condition over time with regular use.
And, the best part is you can use this on other areas such as crows feet and forehead wrinkles.
Some women apply as a base under their makeup to help reduce the appearance of large pores.
Facial Exercises - Remove Upper Lip Wrinkles
In conjunction with a good, nutrient rich creams, consider trying facial exercises to help diminish upper lip wrinkles:
1. Place your thumbs under your upper lip and rest your forefingers on the outside of your upper lip.
2. Using your fingers, pull your upper lip down toward your bottom lip.
3. Then try to sneer – sort of pulling your upper lip upward. While at the same time keep holding your lips down with your finger – hold this for a count of 10, then let go.
4. Repeat this whole procedure 10 times. Try to do this a few times a week. If your lines are very deep or you're over 50, consider doing facial exercises at least 4-5 times a week.
For a balanced, elegant look, it's best to exercise the entire face. For more information and to see, free sample exercises click here.


Home

›
Causes of Wrinkles
› Upper Lip Wrinkles