What Causes Wrinkles?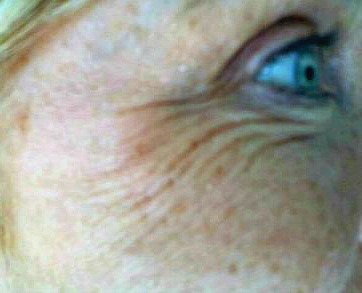 So What Causes Wrinkles? Well, it seems like everything does!
Life style habits, stress, diet, certain medication, environmental chemicals found in some cosmetics, general aging...................



Some simple reasons for wrinkles include:

loss of skin elasticity
thinning of the dermis
lack of moisture
reduce collagen production
loss or shifting of facial fat pads
facial muscle atrophy
What causes this to happen? Take a look at the illustration below................. 

When the dermis is young, the upper layer is thick, and full of elasticity along with rich capillaries, proteins and collagen.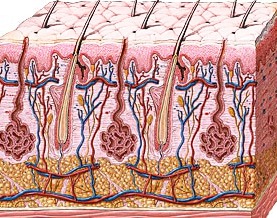 It's able to resist muscle tension and does not develop a grove or crease with repeated facial muscle is contractions – such as a frowning, squinting, or smiling....which is what causes a wrinkle over time.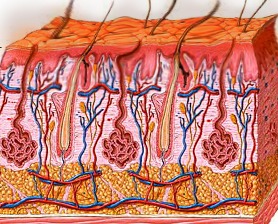 However with age, the upper dermis thins out and becomes drier.


It has less capillaries, proteins (important for maintaiing moisture), subcutaneous fat and the all important elastin and collagen.


This all leads to a less resilient dermis , which causes it adhere to the underlying facial muscle tissue.....


This is what causes deep wrinkles and folds over time.

But lucky for us - unlike our grandparents - we live in an exciting time with all sorts of technology to keep us looking great and sexy well into senior years.


What Are Other Causes?
What about your meds? Well some interesting studies questioned whether certain medications - like antidepressants - can contribute to accelerated aging.
Studies published in the Plastic and Reconstructive Journal found that people who took antidepressants long term seemed to age faster than those who didn't. 
What about chemicals in skincare products?
Some scientist - like Dr. Pickart - believes that certain chemicals found cosmetics, make-up removers, harsh soaps.
Read what facial cleansers causes premature aging of the dermis.


Also, adult's using topical acne treatments should be careful what they use. Some acne creams may cause damage due drying or irritating ingredients.
Caring for adult acne is a challenge because the products need to be very gentle. You should always try to avoid any product that causes over-drying.


What Type Wrinkles Do You Have?
There are two basic types -- Dynamic and Static.


Dynamic - These are usually caused by repetitive movement (in conjunction with upper dermis thinning and loss of collagen.) And, they are pretty deep and are more challenging to treat.


Click here to see what options are available for softening wrinkles around mouth.


Static - These appear on the areas that are very delicate, thin, or dry....i.e less oil glands. We usually see these fine lines around the eyes, upper cheeks, and neck. But there are treatments that can help.


While the lines are easy to eliminate, this area is very delicate, thin, and difficult to keep healthy.


Additional Reading - What Causes Wrinkles
What To Do For a Flawless Complexion
---
Return to Wrinkles on The Face

Or go back to Wrinkle Free Skin Tips Home page for other tips and videos on anti-aging