Treatment for Crepey Skin
Crepey Skin Remedies
for the Neck
Looking for a natural treatment for the crepey skin on the neck and chest? 
Starting to see that dreaded "turkey neck" which is officially called "cording"?
Make sure to check out my "turkey neck" before and after pictures below..........................
Natural Treatments for
Crepey Skin
Just so you are aware - most home or over-the-counter treatments will not bring about dramatic or quick results. So be prepared to wait a few weeks/months to see results. 
But some may be worth trying. I've seen some fantastic results using these simple treatments for crepey skin on my neck using the following treatments:

Face Exercises
Facial Exercises!
I love, love, love my facial exercises. It took a while to find one that wasn't too time consuming, was simple and easy to do, didn't require intense pulling or tugging of the skin. 
Also, many programs didn't address crepey skin of the neck and chest, this one did and continues to update exercises for those very hard to target areas.
How do I know they work? Look at the before and after pictures below!!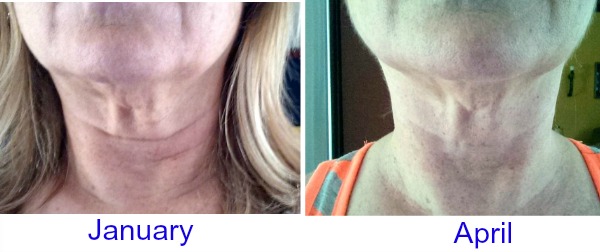 There is more information about Facial Exercising here.....
Topical Vitamin C 
Copper Peptides 
Research shows and many dermatologists agree - copper peptides can help support skin repair or remodeling……..

Skin remodeling is the process where older damaged cells are removed to make way for newer healthier cells. 

I've been a fan of copper peptides (CP) for years. But remember this is slow process so don't expect results over night.

Also, not everyone can tolerate peptides. For some, peptides can cause irritation and itching. Usually it takes time to build up to using stronger peptides – sort of like using Retin-A, you need to build up gradually. 

If this is the case for you, then consider using a slightly different,

advanced copper peptide complex that has less chance of irritation. Click here to learn more

.
Will These Crepey Skin
Treatments Work?
Are facial exercises an effective treatment for crepey skin? 
I think so. I think the change is amazing!
I addition to doing facial muscle building/massaging exercises, I started applying copper peptides and fresh Vitamin C serum to my neck and face.
Here is a sample of a neck exercises called the Brush............Watch the video!
It took time, but I do see improvements and hope to see more in the next coming months..
Finally Other Topical Treatments to Consider
You can also opt for professional creams and peels to refresh and reveal newer smoother skin.
This may not always be suitable for everyone as it can be costly and there are some side effects and downtime while the skin heals.
Topical Prescription Creams and Peels
Other less expensive options include Retin-A and professional peels like TCA peel. 


Retin- A

 - As you probably already know, this cream is available by prescription only and does have some side-effects – including flaking, redness, and irritation. So, it may not be suitable for everyone. 
But the good news is Retin-A does come in different strengths and formulation (gels and creams).
TCA Peels

 - Chemical peels - like laser peels should be done professionally and may require some down time while the area heals. So keep this in mind when if considering this treatment for crepey skin.
Again, your dermatologist would be able to determine which is best for your situation. 
Along with natural remedies and treatments for crepey skin, don't forget to always exfoliate well.
This helps remove dead skin cells and increase cell turnover. Renew Intensive Skin Therapy. 

Additional Reading

Home

›
Crepey Skin
› Treatment for Crepey Skin of Face and Neck